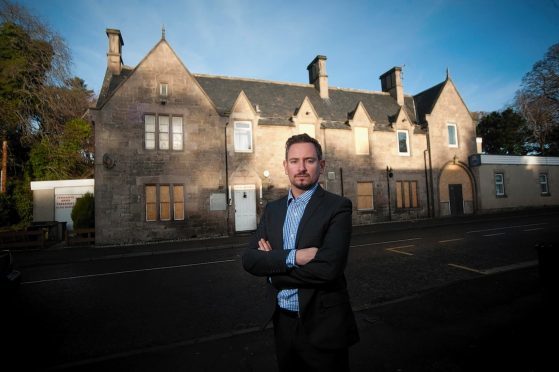 A property developer has been accused of leaving a Moray landmark to rot so that the council will allow him to bulldoze it.
The local authority's planning committee will decide the fate of Lhanbryde's Tennant Arms tomorrow, following a public debate on an application to knock it down.
The owner of the former pub and hotel, Tahir Pervaiz, wants to replace the 19th century venue with a Co-op convenience store.
Fochabers Lhanbryde councillor, Sean Morton, yesterday claimed Mr Pervaiz had done his best to hasten the building's demise by failing to combat its advancing disrepair.
But the architect firm overseeing Mr Parvaiz's plans said Lhanbryde residents themselves were responsible for the building's derelict appearance.
They claim vandals have laid waste to the building by flooding it and smashing windows.
Mr Morton has rallied opposition to the scheme since it was first lodged more than a year ago.
He said: "People are very angry about the way the current owner has let the Tennant Arms become an eyesore.
"We asked that work was performed to fix broken windows and things like that, but the place has just been boarded up and it looks hideous.
"I think that has been done to undermine the village's desire to keep the building, but it is very historic and important to those in Lhanbryde.
"It seems like a deliberate attempt to make it look 10 times worse."
Mr Morton said he hoped the building could be "sensitively" refurbished and brought back to life.
But the Plans Plus architect firm maintains that the Tennant Arms has no other viable future.
Colin Keir, a partner in the company, said: "The site has been broken into and people have tried flooding it, that doesn't strike me as a community trying to save it.
"We originally wanted to keep the Tennant Arms in the shop design, but that wasn't possible.
"I don't think Mr Morton's argument has much credence, we would not be able to carry out meaningful repairs on the building without consent."
The council's planning committee will listen to representations from both sides prior to deciding on Mr Peraiz's application tomorrow afternoon.