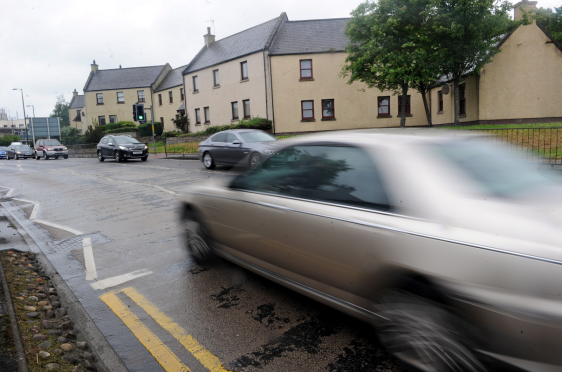 Police have launched a clampdown on noisy boy racers in Moray's biggest town, arresting one man and snaring three drivers with untaxed cars.
Officers carried out ramped up patrols in Elgin following complaints about anti-social motorists making peoples' lives a misery.
Residents on Murdoch's Wynd say they have taken to wearing ear plugs at night to drown out noise from uncaring drivers with backfiring exhausts and loud engines.
Sergeant Colin Matheson, of the region's road policing unit, yesterday condemned motorists who "show no regard for other road users or nearby residents" by loudly zooming around parts of the town.
Roads officers and Elgin community policing teams joined forces to carry out the beefed-up patrols on Saturday night.
During the evening, a 22-year-old man was arrested on a careless driving charge and will be reported to the procurator fiscal.
The man also received an anti-social behaviour warning, and three other drivers stand to be reported for using untaxed vehicles.
Sgt Matheson said officers would continue to exercise a hardline approach on offenders caught driving in an anti-social manner.
He said: "A minority of drivers show no regard for other road users or for nearby residents, due to the unnecessary and excessive noise they create.
"Police will continue to address this and, where appropriate, issue anti-social behaviour warnings.
"These warnings can lead to someone having their vehicle seized, should they be found driving in a similar manner within 12 months."
Last night, Elgin City South councillor, John Divers, said he hoped the police action would send out a strong message to deter others.
Councillor Divers explained that he and fellow ward member, Graham Leadbitter, brought the problems to police following a recent meeting.
He said: "There have been a growing number of complaints from residents around that Ladyhill area.
"We urged senior officers to make sure something was done about it, and I'm pleased to see such a proactive response.
"I hope this action continues, to ensure that people around the area can have some peace at night."
Earlier this year, one despairing Murdoch's Wynd resident described the troubling behaviour.
They said: "It's worse than fireworks. When we got to bed at night we've got to have ear plugs in, it's that bad."