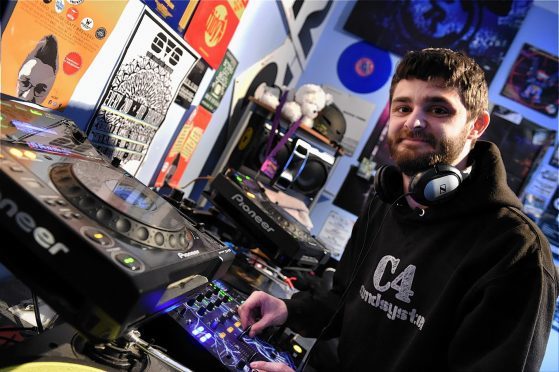 A Moray DJ who dreams of a career spinning the decks before audiences across the world has taken a step towards making his ambition a reality.
Duncan Falconer works as a council recycling assistant but his aspirations extend far beyond that line of work.
Under the stage name of Acutek, he has performed sets at Belladrum and Rockness and has supported dance favourites such as Pleasurecraft and Gary Beck in Aberdeen.
Last April, the 24-year-old came close to winning a competition where the top prize was opening for legendary DJ Carl Cox at a charity gig in the Houses of Parliament.
He impressed judges, but failed to make it past a regional heat in Leeds.
Determined to keep his passion alive, he returned to writing his own music with a newfound vigour.
The Forres resident received a confidence boost when a set featuring his own compositions went down a storm during a performance in the town's Victoria Hotel bar.
And he was elated when Space City Recording recently sent him a contract, asking to release the music online.
Two of his songs have already found favour with DJs in Italy and Detroit, and have been played to revellers across the world.
Mr Falconer said: "I've been writing my own tunes and eventually decided they were good enough to send away to record labels.
"This is the first time I've ever sent stuff off, it's amazing to think that something I made in my wee studio could be played to people in such places.
"I love what I do, I will always be enthusiastic about recycling so that would be hard to give up.
"But in an ideal world, it would be cool to get to travel about playing sets."
One track, Like a Carrot, will be released on Friday, followed by Chimes early next month.
Mr Falconer explained that Like a Carrot's unusual title was inspired by his unsuccessful attempt to recite a joke at a friend's wedding party in Pluscarden.
As that celebration extended into the early hours, he recorded the sounds of the 20 people in the room, and incorporated it into the tune.
Mr Falconer's music is available to listen to on his Acutek social media pages.