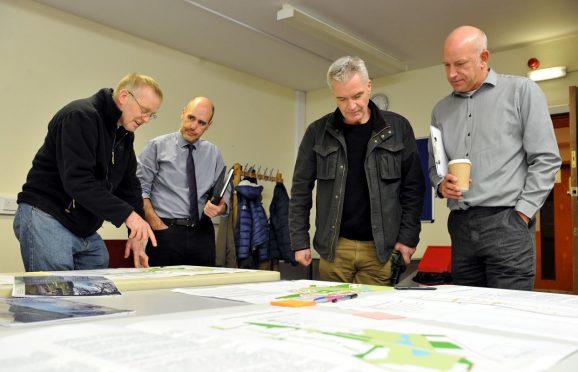 Residents fear more than 170 new homes built on the outskirts of a Moray town could lead to traffic headaches in the area.
Visions for the Dallas Dhu masterplan on the southern edge of Forres went on public display yesterday.
Council planners insist the "unique" housing scheme will focus on the quality of housing and will show-off the natural landscape with wetlands for wildlife.
However, locals at last night's event in Forres remained mixed about whether new homes would lead to the quiet countryside location becoming overwhelmed.
Steve Hull, who lives on the boundary of the proposals, said: "When you have 170 houses in the countryside, it's an intrusion.
"It's going to be out beyond the woods, all these people are going to have cars, it's going to change the whole character of the area."
Another Forres resident added: "There's going to be an awful lot more cars. The town's already chock-a-block as it is. This could make it worse."
Other locals filling out post-it notes to stick on maps at the exhibition believed access roads would be able to cope with the traffic.
Improved cycle access, projects to widen Mannachie Road and Grantown Road and a new bus service have been included in plans to reduce the need for cars.
Developer Tulloch of Cummingston has signed on to develop the first 40 homes in the masterplan. A planning application is expected to be submitted in the summer.
Other firms could build the rest of site, which can accommodate up to 172 homes, over the next eight years. A quarter of the properties will be classed as "affordable".
Peter Mitchell, secretary of the Dava Way Association, took a keen interest in the emphasis on cycle routes.
He said: "It's good to see the Dava Way being seen as a safe route to get to the town and schools and it is actually going to be promoted.
"It could see the usage go up markedly. It might need upgraded to a tarmac surface or it could deteriorate quickly."
Planners intend to use the natural surroundings of the countryside to create play areas for children and scenic views from the homes.
Moray Council's principal planner Gary Templeton said: "This is going to be something a little bit different. The emphasis is very much on quality and working with the environment.
"It's going to have good links to the health centre, schools and shops."
A consultation about the project runs until March 27. Views can be submitted by e-mailing localdevelopmentplan@moray.gov.uk