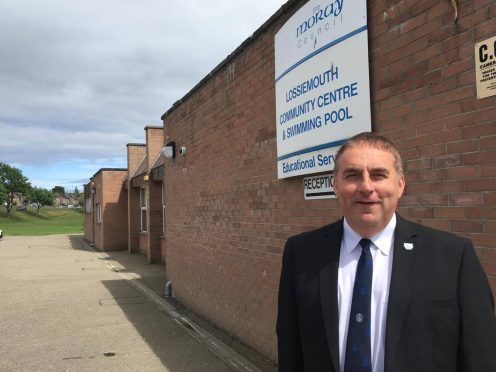 A compromise has been struck to spare older and disabled voters an "exhausting" trek to their polling place in Lossiemouth at next month's general election.
Angry pensioners trudged away from the town's community centre without casting their ballot in the council elections earlier this month, after the usual entrance to the polling station was closed.
The changes meant they had to endure a trek around the building and down a long corridor before being able to vote.
Some residents with mobility issues chose to sacrifice their democratic rights rather than undertake the trip.
And those who made it to the polling station were left "out of breath" by the time they arrived to select their local representatives.
Moray Council convener, James Allan, witnessed the problems first hand while canvassing outside the building on polling day
The Heldon and Laich councillor took officers to task over the matter last week.
But a council spokesman explained that the emergency doors, normally used to allow people easy access to the station had been shut, because polling staff were feeling the cold.
He said: "We have to strike a balance between the comfort of polling place staff and the convenience of the public."
The spokesman said that no changes would be made ahead of the Westminster vote on Thursday, June 8.
However, Councillor Allan brought the local authority's depute returning officer, Moira Patrick, on a walk around the venue to show her what vulnerable residents had to go through late last week.
And yesterday, it emerged a compromise had been agreed to ensure older people and pensioners will be able to access the building more easily next month.
Older and disabled people will now be able to access the polling station via a side door which reduces the distance they have to travel.
Mr Allan said: "What happened last time was terrible, some older people could hardly breathe by the time they got to vote.
"Some people said they wouldn't bother next time, so I hope this changes their minds.
"It will be less than half the distance they had to walk last time.
"There will be an employee and signs pointing out the new entrance and people with mobility problems can drive to the side door if they wish."