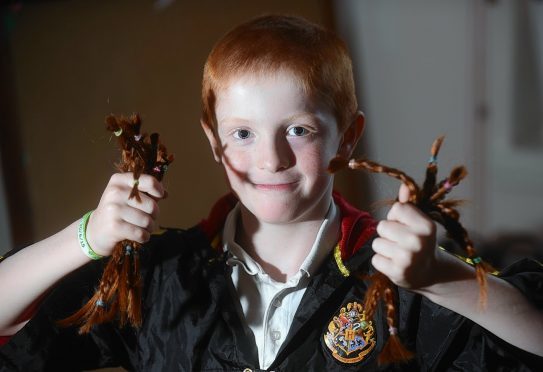 A Moray primary resembled the Hogwarts School of Witchcraft and Wizardry yesterday as youngsters celebrated the 20th anniversary of the first Harry Potter book.
The fancy dress day was the idea of nine-year-old Kinloss Primary School pupil Conal Inkson, who is a huge fan of the JK Rowling stories.
And Conal provided the high point of the day, when he made his long locks of red hair disappear in an instant.
However, there was no magic involved, as the P5/6 pupil had his hair – which he had been growing for 18 months – chopped off in the name of charity.
More than 20 plaits were bagged up and sent to a group which will transform them into a wig for a child who has lost their own hair through cancer treatment.
Conal explained he had been waiting for the right moment to have his mane removed, and decided to combine it with the fun day celebrating the fictional wizard.
He added: "I have seen all the films countless times, but I enjoy the books more and Ron is my favourite character because he is so funny.
"The theme day has been great fun, the best part was learning area and perimeter in maths by looking at Hogwarts."
Forres hairdresser, Louise Gray, plaited Conal's hair during the lunch interval yesterday.
And 250 of his costumed schoolmates filled the hall to watch as the Kinloss boy received his long-awaited haircut.
His proud mum, Michelle MacDonald, and dad, Alan Inkson, joined in with both lopping off a plait.
Conal's teacher, Sian Mair, entered the spirit of the occasion by dressing as house elf Dobby and also removed a lock.
Afterwards, the youngster said it felt "very weird" to suddenly have short hair again.
The children then remained in the hall as one of the Daniel Radcliffe movies was played on a huge projector screen.
Harry Potter and The Philospher's Stone was first published on June 26, 1997.
Headteacher, Iain Lunan, said he hoped the anniversary celebration would inspire pupils to read more during the summer.
Conal has also managed to raise £500 to be shared between bucket list collections for Lossiemouth teenager Dion Yates and Forres five-year-old Eileidh Paterson, both of whom have been diagnosed with terminal cancer.
Donations can be made at www.justgiving.com/crowdfunding/michelle-macdonald