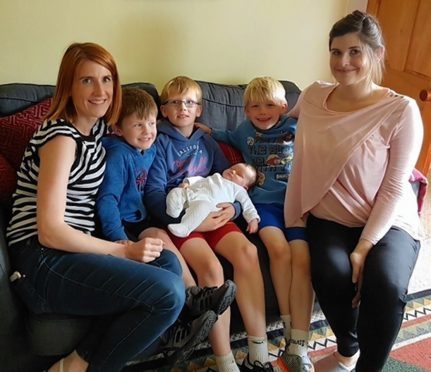 A mother who successfully campaigned for a specialist maternity unit in Elgin after her daughter was born halfway to Aberdeen has joined the fight against any return to "risky" transfers.
Marj Adams said the prospect of heavily-pregnant women once again having to travel miles along the "dangerous" A96 to give birth was causing "huge concern".
Transfers of non-routine births is among temporary options being considered by NHS Grampian as it battles with a staffing crisis.
Mums-to-be could face 60-mile trip to give birth due to staff shortages
Health chiefs need to recruit two junior doctors before the end of the month to avoid the possibility of mothers-to-be being taken by ambulance to give birth in Aberdeen or Inverness – a throwback to the 1980s.
Mrs Adams was a prominent member of the Maternity Unit for Moray (Mum) group three decades ago.
And now its successor, which includes another of her daughters in its ranks, has warned the health board the people of Moray are "watching them" and ready to fight once again.
Kirsty Watson, whose sister Amy was unexpectedly delivered in Huntly during a transfer to Aberdeen, warned taking women in labour on the A96 to the Granite City was needlessly "risky".
She said: "It's essential that any proposed changes to the current maternity service are discussed with the local population.
"Women, and their families, are very positive about their experiences of Dr Gray's, which has been a huge success. All of the staff give a first-class service – it's greatly valued.
"Women don't want to suffer a risky transfer to Aberdeen on the dangerous A96. Our service in Elgin must continue and it's up to NHS Grampian to make sure that it does."
The Mum campaign successfully convinced an independent review an upgraded specialist maternity unit was needed in Moray after families spoke out about the dangers of ambulance transfers.
Mrs Adams was one of many parents who stepped forward in the 1980s to tell their story as part of the cause.
Last night the Elgin resident stressed it was critical a specialist maternity unit was kept in the town to cope with all eventualities during child birth.
Mrs Adams revealed that everything turned out fine with her daughter Amy's birth 32 years ago but explained there was a "huge concern" about A96 transfers becoming regular again.
She said: "I was sent to Aberdeen when I was quite far on in labour in an ambulance. The roads were icy and it was snowing.
"We drove just past Huntly and it became obvious to me the baby was going to arrive so we turned back and the ambulance driver radioed for a doctor to meet us at the hospital in Huntly.
"Everything ended well but there's obviously a huge concern about mothers being transferred from Moray to Aberdeen because it's a long distance."
Yesterday Mrs Watson explained the liaison group was also eager to investigate ways to help the NHS solve long-term challenges in enticing medical staff to the region.
NHS Grampian has insisted it is doing everything in its power to recruit the two required junior doctors before the beginning of August.
The health authority has explained that numerous options are currently being considered, no final decisions have been taken yet and any possible changes would be temporary.
Moray MSP Richard Lochhead added: "On behalf of the community, the committee is determined to remain vigilant and ready to respond to any changes that are made and deemed not to be in the interest of patients, staff or wider community.
"The last thing anyone wants is to turn the clock back to the days when pregnant women were routinely transferred to Aberdeen with babies delivered in laybys on the A96 and so on."