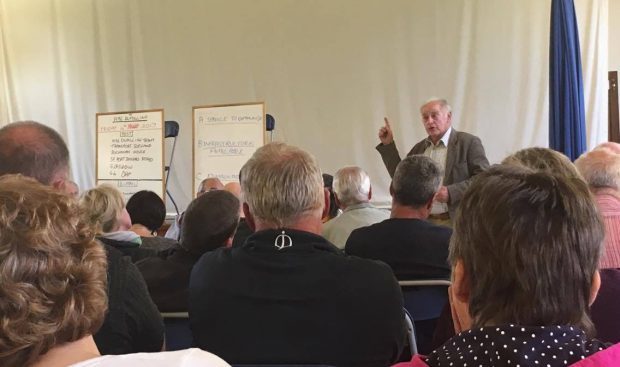 Rural communities have been pitched into a "them or us" battle against one another over the route of a new dual carriageway.
Transport Scotland aims to have the dualled A96 Aberdeen to Inverness road completed by 2030, and has formed a shortlist of options for how it will pass from Hardmuir to Fochabers.
But residents around Dyke and Miltonduff are now locked in a battle with the body – and each other – over whether the northern and southern route options should be picked.
Villagers in each area staged packed public meetings this week, where locals raised complaints about both options.
People around Dyke say that a road north of Forres would ruin the appeal of historic attractions, slice the close-knit community "in half" and increase the potential for flooding.
Those around Miltonduff have raised similar flooding fears, and also argue that a southern route would spell "ruination" for 11 affected farms and tarnish an area of largely unspoiled countryside.
The owner of Burgie Estate, Hamish Lochore, helped chair a packed meeting at Miltonduff Village Hall.
He said: "This would out an end to the horse trials we run at Burgie, and spell complete ruination for 11 farms."
And Colin Anderson, a local agricultural consultant, said people around Miltonduff had to be "selfish" in fighting for the road to go elsewhere.
He said: "It is them or us, we have to push it somewhere else.
"The road chosen will be the one which faces the least resistance and every area must fight its own corner."
Dyke Community Council member, Steve Arkley, yesterday agreed that the proposals had proved "divisive".
Mr Arkley said: "We are aware this is divisive amongst communities, and we have 500 names on a petition against the north routes."
He added that the one thing both groups are united about is questioning whether a dual A96 is necessary in some parts of Moray.
Mr Arkley said there was a "groundswell" of opinion on that matter, with many feeling traffic volumes are not sufficient around Forres to justify it.
Transport Scotland dismissed that suggestion, though the organisation insists that all feedback on the route options will be considered.