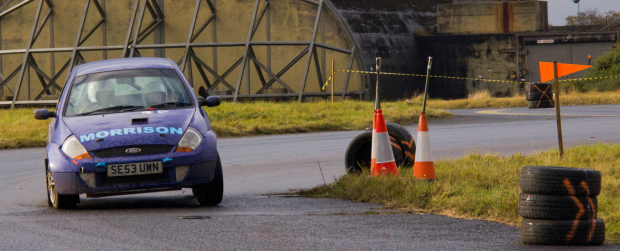 An Urquhart husband and wife team are to take part in an exhausting rally to pay thanks to the cancer charity which supported a dying relative for three years before his death.
Brian Morrison, 53, and his wife Annette Morrison, 48, will participate in the Rally Hebrides, which takes place on Lewis.
Annette's father died of cancer after being supported by Macmillan cancer support nurses while battling the condition for three years.
And now the pair are looking to raise money for the charity as thanks for their support in a difficult time for the family.
Mrs Morrison will be navigating the car for only the third time ever, with the support the charity gave her father serving as motivation.
And she admitted that she had even broken a promise never to get back in the navigator's seat because she felt it was important to recognise the work the charity did.
She said: "I promised I would never do it again, but I've ended up doing it again.
"This was important because I thought it would be something nice to do for my dad – and for my mum."
She said: "Macmillan were so pleasant and so helpful, they were just wonderful, but they never gave us any false hope."
While his wife doesn't have a lot of experience in racing, Mr Morrison has been a keen rally driver for over 30 years.
And despite having driven in hundreds of races in that time, he feels that this one will be different.
He said: "It's definitely more emotional.
"I'm coming to the end of my racing career, so it's really nice to rally for someone else, rather than just myself."
The racing enthusiast added that his wife will have to get involved with more than just helping him to keep the car on the road.
The pair will have to do all of the repairs and maintenance work themselves between stages.
The rally – which will take place over two days – will start near Stornoway airport.
From there it will cover a large area across the island, with the participants trying to finish the race as quickly as they can.
As it's a charity event, times will not be kept, but there will be pride at stake for those who enter the race.
The event will take place on Stornoway on August 18 and 19.