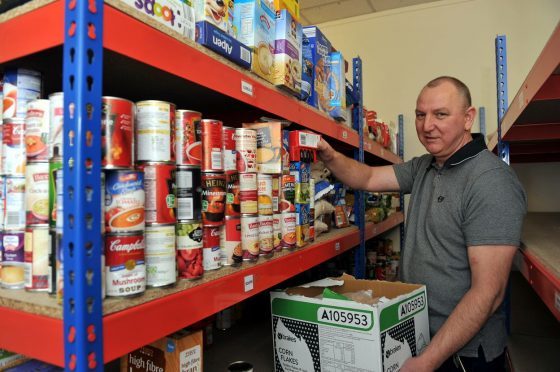 A Moray charity has experienced unprecedented demand during the school holidays from hungry children.
Food banks across the country come under increased strain during term breaks due to pupils temporarily not benefitting from free lunches.
And yesterday Moray Foodbank revealed they have experienced their busiest July on record for food parcels.
Last month 127 adults and 61 children were referred to the Elgin-based charity – an increase from 105 adults and 38 children at the same time last year.
Yesterday Gilbert Grieve, who works with the group, revealed the demand is only expected to increase in the coming years.
He said: "We've been busy, specifically with people asking for food for holiday meals.
"The kids are off at the moment so they are not getting their lunches. We get specific requests for that so we are busier than ever.
"It's certainly not an improving situation. It's only getting worse as far as we are concerned."
In order to cope with demand the food bank has run a special "holibob club" with the Keith Loft Youth Project.
About 20 children from low-income families have attended sessions during the break that have been identified as needing support during the holidays.
The youngsters receive lunch during the afternoon following a morning of activities before getting a food parcel to take home with them.
Moray Council's SNP group co-leader Shona Morrison criticised the "appalling" statistics as showing the extra financial strain put on families during the school breaks.
She said: "It's utterly shocking to look at those figures. It's really saddening to know that in a wealthy country like Great Britain that people are still depending on food banks.
"There is a trend of children returning to school after the holidays malnourished, which shows just how valued the free school lunches are.
"The figures really show the effect that welfare cuts are having on some of the most vulnerable in our society and the damage that is being done."