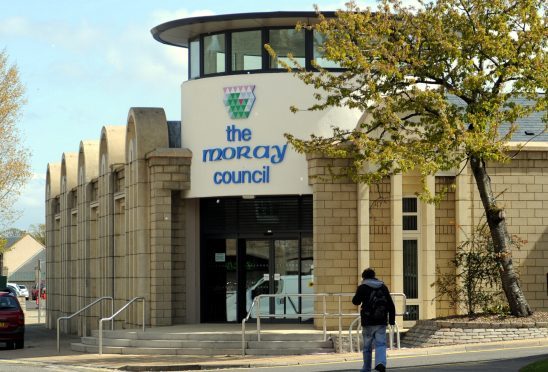 Budget cuts that could hit children with specialised learning needs have been criticised as an "attack on the most vulnerable".
Reductions to services for school pupils with additional support needs (ASN) have been included in Moray Council's financial consultation.
Yesterday, the "shocking" proposal left one mother fuming while a member of staff at a secondary school spoke out about their concerns.
Council leader George Alexander explained it was a "difficult" choice to include the proposals in the budget consultation but stressed he had been assured parents would see "no difference in the service".
However, Gillian Groves, whose wheelchair-bound son Tom requires special assistance due to cerebral palsy, fears children are seen as "easy targets".
The Fogwatt mum, who works as an independent advocate for people with disabilities, said: "Teachers are being relied upon more and more to provide support for our children.
"Some teachers are already concerned they are not able to provide the right support for pupils because they don't have the right training and specialised staff aren't available.
"I know the council has to cut funding to get out of the red but I'm speechless at this. These are services that some children need just to be able to go to school."
ASN staff work with pupils and families to create tailored support to enhance opportunities in schools.
The council's independent and Conservative administration has proposed a reduction in behavioural support funding, the educational psychology service and homeschool link workers.
If all those proposals are approved as part of the final budget in February then it would save the authority £391,000.
The authority is currently attempting to plug a £23million gap in its funding over the next two years in the face of expected declining support from UK and Scottish governments.
One member of staff at a Moray secondary school, who did not want to be named, said: "This is an attack on the most vulnerable in our community. It doesn't make any sense, other than financial.
"Axing specialist positions may be a cost-effective way to manage a budget but it will mean the loss of a vital, much needed and appreciated service for disabled students and families who need it the most."
A joint statement from Moray Council's trade unions added: "We know the financial situation is difficult but cuts to jobs and services will not address that – it will simply increase the pressure on the remaining staff.
"The proposals put forward are short-sighted, lack coherence and, worryingly, leave grave concerns about how the council will fulfil its statutory requirements in some areas – ASN for children being only one example."
Separate suggestions include tasking secondary school head teachers to save a further £258,000 and asking primary school counterparts to save £178,000.
Other proposals included in the financial plan are reducing bin collections to three-weekly, offloading town halls to community groups and shutting public toilets.
Moray Council is currently embarking on a consultation with residents until January 14.
Mr Alexander said: "I've been told that the ASN savings won't make any difference to the service but will target posts that have been vacant long-term and staff have been coping until now.
"We can make better use of our services though. It's very difficult to provide specialised staff in every one of our 54 schools."