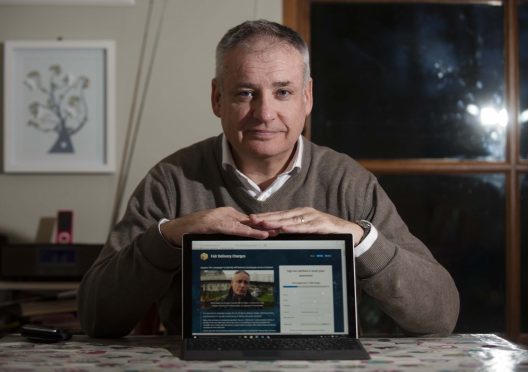 A delivery courier has been told to "take geography lessons" after it emerged Moray was considered to be an island by the firm.
Yodel sent the package to a resident in Lhanbryde with the word "isle" printed on the delivery note.
Yesterday, the company declined to comment on why the parcel was labelled with information that suggested it would have to take an overseas voyage – choosing instead to blame the retailers.
However, Moray MSP Richard Lochhead believes the revelation is the latest example of why the north of Scotland does not receive a fair deal on parcel deliveries.
He said: "This is a case where couriers are display jaw-dropping ignorance of geography. The idea that some couriers and retailers refer to Moray as an island is bonkers – no wonder customers get angry.
"The last time I visited Lhanbryde I didn't need a boat to get there. I will be writing to Yodel to express my astonishment and urge them to take geography lessons.
"The guilty retailers and couriers need to get their act together because other companies are able to take a far more sensible approach to deliveries."
Mr Lochhead has urged residents in Moray to complain to the council's trading standards team if they are charged extra by firms advertising free "mainland" delivery.
Research by Citizens Advice Scotland has found that customers ordering online from the north and north-east pay up to four times for delivery compared to the rest of the UK.
The excess fees were recently debated in the Scottish Parliament and a campaign set up by Mr Lochhead to stamp out surcharges has now been backed by more than 2,000 people.
Last night, a spokeswoman for Yodel declined to comment about why Moray had been classed as an "isle" for the delivery.
She added: "The charges for our deliveries are set by the retailers."
A LETTER FROM YODEL
Sir, – As a parcel carrier specialising in deliveries for online retailers, we are very proud to service every address in the British Isles and currently deliver over 10million parcels to businesses and households in Scotland each year.
This week's articles "Geography barb to courier who had Moray as 'isle'" and "Courier told to take geography lessons after considering Moray as 'an island'" contain statements about Yodel that we felt were inaccurate, and which we would like to address given the role we play in serving customers across Scotland.
When asked by the Press and Journal about delivery costs added to a reader's online orders, we explained that Yodel does not make any charges to parcel recipients, as the cost of delivery is the responsibility of the sender. We therefore suggested contacting the retailer concerned. Yodel did not, as the article states, 'choose to blame retailers'.
The article also includes a quote stating that Yodel considers Moray to be an island.
'Scottish Highlands and Islands' is the term we have used at Yodel for both the most northerly and southerly regions of the British Isles, including Moray, where deliveries cannot be completed within 24 hours of order. This is due to the distance that our trailers need to travel from our three main sortation centres.
The technology used to create the delivery labels for this service uses the abbreviated code 'Isle' to indicate that an additional 24 hours is allowed.
We recognise that Moray is neither in the Highlands nor an island and that the code has caused some concern. We would like to apologise for any confusion or offence caused and confirm that this code will be removed from all labels from next month to prevent any further misunderstanding.
We speak regularly with Citizens Advice Scotland and continue to welcome customers' feedback on the service they receive through our own award-winning Have Your Say survey.
Patrick McGuirk, commercial development director, Yodel, Frobisher Way, Hatfield,
Hertfordshire