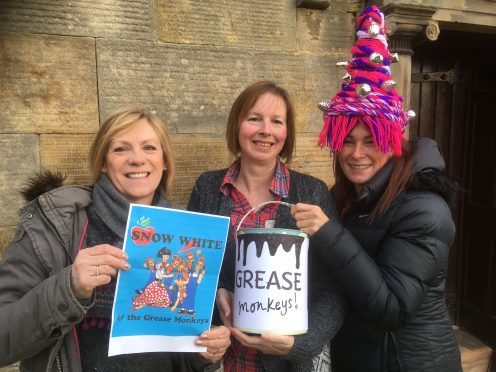 Snow White is due to have a date with Danny Zucko as part of a bid to overhaul a Moray church hall.
Volunteers in Dyke are rehearsing a pantomime to help raise £160,000 to make the building more well-used.
Money raised from Snow White and the Grease Monkeys will pay for a new path to make the church more accessible as well as funding new toilets and removing asbestos.
The building has remained largely unchanged since the 1950s and locals now feel it is time to bring the building into the modern age.
Church elder Alison Rodgers said: "A pantomime was staged in Dyke about nine years ago to raise funds for the village primary school.
"Most roles have now been filled for the show with so many people saying they are happy to pull their weight with any task. It's very reassuring to know there are so many people invested in their community."
The refurbishment project will be done in two phases, which will culminate in the hall being expanded.
The production was written by village resident Linda Walker.
She said: "I wrote it a while ago and after some discussion and a few tweaks, we have decided it will be ideal to help raise money.
"The general story is Snow White but it will be complemented with the soundtrack from Grease so there will be a real 1950s theme and both stories are familiar."
The pantomime will be staged in Dyke and District Hall on March 24 at 7pm. Tickets can be booked by calling Claire Doughty on 01309 641354.