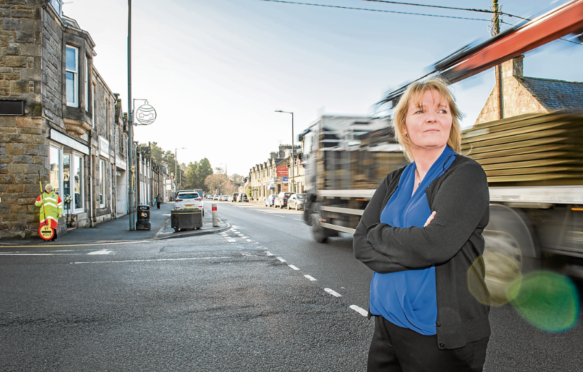 Fears have been raised that halving the number of school crossing patrollers in Moray could lead to chaos at the gates as parents choose to drive their children instead.
The council will withdraw staff from all lunchtime duties and from locations where there are traffic lights as part of budget cuts to save £6million.
Opposition councillors voted against the move due to concerns about safety for children making their way to class and job losses.
Last night the council insisted it would continue to provide "considerably more" provision than it is required to do – explaining many parents of current pupils will have walked on their own to school themselves.
But Speyside Glenlivet councillor Louise Laing fears the increase in distillery traffic running through Rothes and Aberlour has made the journey more hazardous in recent years.
She said: "Yes, it's the parent's responsibility to get their child to school but with people going to work in the morning it's difficult to find the time to walk.
"I feel this will lead to a build-up of traffic at school gates as parents will opt for the quickest way of getting their children to class.
"Aberlour has increasing amount of traffic every year and Dufftown is busy for tourism so there's drivers who aren't used to our roads."
Crossing patrollers have also been withdrawn for New Elgin Primary School on Main Street and Linkwood Road while Seafield Primary School will no longer have a lollipop on Lossiemouth Road.
Locations withdrawn in Buckie include West Cathcart Street and Well Road.
A total of 717 people responded to a council survey ahead of the budget being finalised – 36% of them disagreed with cutting the amount of patrollers. The changes, which will involve 36 sites reduced to 18, will come into effect in August and are expected to save £118,000.
Elgin City North councillor Paula Coy, whose daughter attends New Elgin Primary, said: "It's a huge concern. More than 600 children go there, the roads get very congested."
A council spokesman said: "Pupils walking to and from school will still be guided by patrollers where there are no traffic lights.
"The level of provision will be considerably more than the statutory requirement. Guidelines clearly place the responsibility of getting children safely to school with parents, many of whom would have walked to school unaided as children themselves."