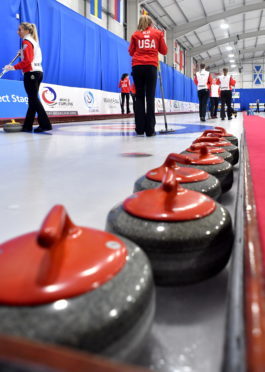 Curlers from around the world are uniting in Moray this weekend to benefit a nursery that helps children who need extra support.
About 20 teams will take to the ice in Elgin for the friendly tournament, which was instigated to promote friendship across borders and raise funds for local causes.
More than £25,000 has already been raised for charities across the region thanks to the initiative, with this year's Moray International Bonspiel due to be the 10th annual competition.
Organisers looked at all the organisations they have supported in the past in order to decide who would receive this year's money.
They eventually decided the work of the Lossiemouth-based Ladybird Development Group was the most deserving of the anniversary support.
Andy Cameron from Rothes, who founded the event, said: "With it being the 10th year, we looked at all the charities we've supported previously and thought about who we would to do it again for.
"Ladybird really touched our hearts, just because of the amount of attention they give to the children and the space they give the parents to have time to themselves.
"It's not really just somewhere for the kids to learn It's much more than that."
The Ladybird group offers specialist learning for children who have autism, Down's syndrome, cerebral palsy and other conditions.
Staff aim to develop social and language skills through a range of play activities to help them integrate with mainstream playgroups, nurseries or primary schools.
Competition began on the ice at the Moray Leisure Centre yesterday with about 100 players expected to cast stones before it concludes tomorrow.
Teams have travelled especially to the north of Scotland from Canada, California and Norway in order to compete against local sides.
Mr Cameron added: "Curling is definitely something that is growing here. The Olympics is certainly something that can help it blossom and get more people playing."