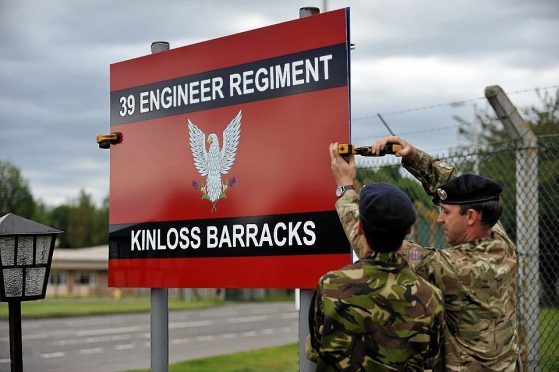 Kinloss Barracks and other Scottish military bases are safe from the axe in the next round of Ministry of Defence cutbacks, it has been revealed.
Scottish Secretary David Mundell reassured Moray residents yesterday that the UK Government remains "very committed" to its existing estate north of the border.
Defence chiefs are embarking on their latest spending review, less than two years after announcing that Fort George and two Edinburgh barracks would shut down.
Kinloss controversially closed as an RAF base in 2012 and, despite being turned into an Army barracks in the same year following the arrival of the 39 Engineer Regiment, speculation has continued over its future.
But the MoD has invested almost £29million in the base in the last three years and Mr Mundell said he did not expect any imminent changes to the Scottish defence estate.
"We're very committed to the footprint that we have," he told the Press and Journal.
"We've made the commitment to Kinloss, we've made a huge commitment to Lossiemouth – Boeing is coming in there and the marine patrol vehicle, that's a huge commitment to Moray in particular.
"The decision has been made to keep the marines at Condor, that's the position and there isn't any suggestion that that's going to change.
"There are developments around Leuchars and those are ongoing around the balance between Leuchars and Edinburgh and I think people would accept that is an ongoing discussion.
"There isn't any threat to the footprint in Scotland but always the Army has to look at the most effective deployment of resources. You've got to do that."
Mr Mundell also confirmed that there were no plans to accelerate the closure of Fort George, near Inverness, with the home of the Black Watch battalion still expected to close in 2032.
Plans to shut the base earlier were previously abandoned in 2016 following the Press and Journal's Fight for Fort George campaign.
Mr Mundell said that the 2032 closure date was agreed to protect the local economy and provide time to draw up plans for the future of the fort, which was built after the Battle of Culloden.
"Fort George is not fit for purpose. Everybody really understands that," he said.
"It's a historic building and we want to do everything we can to manage the situation over that very long period to minimise the local impact and also to maximise the potential of Fort George in its capacity as a historic building."