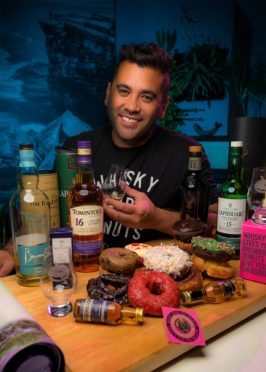 Whisky and donuts will make an unlikely match at a celebration of Scotland's national drink next month.
Johnny Baldaray fell in love with single malts when he visited the Spirit of Speyside Whisky Festival with his wife Erica three years ago.
The American took a selection of the area's finest drams with him as he returned to California.
When his friends were invited to his home to sample the tipples, however, there was only a box of donuts to offer as a snack.
The night inspired Mr Baldaray to set up a website devoted entirely to pairing donuts with whisky to bring out the flavours of each.
And the Los Angeles-based connoisseur has now commissioned an Edinburgh donut baker to create recipes to go with six whiskies.
Mr Baldaray said: "It's too early in our process to say that there are guidelines. All whiskies work, and more importantly, there is a donut out there for any whisky or the other way around.
"It may be biased to say that Speyside whiskies work particularly well, because I hold the region closer to my heart than others, but there are so many delicious characteristics here that the pairing process is that much more enjoyable."
Bourbon-based drams are renowned for working with sweet chocolate donuts, while fruity whiskies go best with those topped with jelly.
Smoky or peaty malts have been found to taste best when matched with nuts or custard.
Mr Baldaray added: "Personally, I love and embrace the purists in whisky culture. I am far from an expert on the subject and often find inspiration from those who are so devoted to tradition and regiment."
The tasting session has been organised for May 6 in Dufftown's Commercial Hotel as part of the food-themed events that make up next month's Spirit of Speyside Whisky Festival.
Chairman James Campbell said: "Our festival is full of surprises and every year we're amazed by the innovative additions to the programme which takes in everything from traditional tours and tastings to curious events like pairing whisky and donuts.
"It goes to show the diversity of our offering and we really do have something to appeal to all tastes."