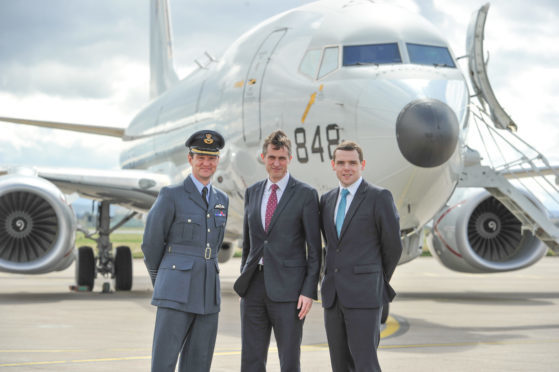 The north-east has become "integral to national security" as UK bids to combat the increasing threat posed by an aggressive Russia.
The UK's Defence Secretary Gavin Williamson was at RAF Lossiemouth to begin construction on a massive £132million project that will transform the military base.
A huge hanger will house nine submarine-hunting Poseidon P-8s, with a total price-tag of £3billion, which will begin arriving in Moray in 2020.
The aircraft are part of an investment of more than £400million in the base's infrastructure that will eventually lead to nearly 500 extra personnel being deployed there.
Up to 200 jobs will be supported during the construction of the hanger alone – a boost that Moray MP Douglas Ross has described as "hugely significant" to the area.
But Mr Williamson explained that while the investment in the north-east would deliver large knock-on benefits for locals, it was also critical to deal with increasing Russian posturing.
He made the comments in the wake of warnings from expert analysts that international relations between the West and Russia are at their lowest point since the Cold War.
There have also been increasing reports of incursions into North Atlantic waters by Russia's navy and airforce.
The Defence Secretary said: "This is going to be absolutely integral to our national security, dealing with the increasing Russian threat.
"What we have seen from the Russians is a ten-fold increase in submarine activity. They see the North Atlantic as an area of operation and they are stepping that up in terms of using more and more submarines there.
"As a nation, we have to respond to that threat and Poseidon is going to be incredibly important to that."
The new hangar, which will be built by Elgin-based Robertson Northern, will house a tactical operations centre, squadron accommodation, training simulators and space for three aircraft.
Subcontractor opportunities are also expected to be created from a Ministry of Defence contract, worth up to £100million, to overhaul the runways and taxiways as part of the base upgrade.
Operated by a basic crew of eight, the P-8s are also armed with anti-submarine torpedoes and capable of launching search and rescue operations.
Mr Ross added: "The local jobs created during the construction of this facility is something I know will be widely welcomed in Moray, not to mention the long-term benefits that will come from having the new aircraft here.
"Moray continues to be a critical component of our UK defence, the minister's visit to Lossiemouth has underlines the important role our area plays in defence and the benefits we receive as an integral part of the UK's armed forces."
Donald Gatt, Moray Council's armed forces champion, said: "We will continue to work closely with the Ministry of Defence to do all we can to support our service personnel and their families, as they settle into life in Moray."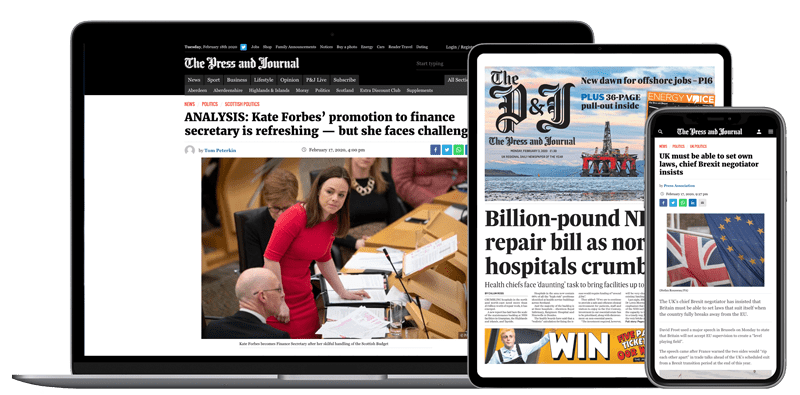 Help support quality local journalism … become a digital subscriber to The Press and Journal
For as little as £5.99 a month you can access all of our content, including Premium articles.
Subscribe