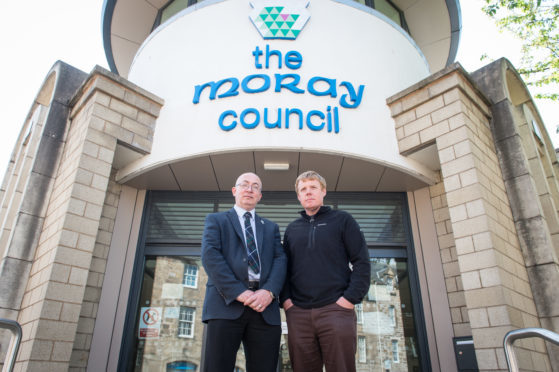 Conservative councillors in Moray have threatened to quit the council's ruling alliance in a row over job adverts.
A rift has emerged in the authority's administration over how senior management will be structured.
The dispute threatens to plunge the leadership of the council into chaos at a time it is attempting to save up to £14million over the next two years.
Two recruitment ads for department director positions, both commanding salaries of more than £90,000, have been posted online.
However, Tory members say the recruitment drive should have been delayed until an external review of the management structure is done to determine whether the total amount of directors can be slimmed from three to two.
Meanwhile, independent members of the administration, including leader George Alexander, believe the posts, which report directly to the chief executive, need to be filled.
Yesterday, showdown meetings were held at the council's headquarters in Elgin, which ended in stalemate. More discussions are expected today.
Conservative leader Tim Eagle said: "We're operating under severe financial pressures and we need the council to be as lean and efficient as it can be. We think we should at least look at whether we can operate with two directors but we may have reached an impasse."
Planning committee chairman Marc Macrae said: "We all want a financially sustainable Moray Council.
"I think we are reaching the point where we can't continue in the administration though if we disagreeing about something as fundamental as this.
"If we fill these posts now then we could end up paying them off in a couple of years if we carry out a management review."
Today (THURS) is the first anniversary of the administration forming, three weeks after elections failed to produce a clear result.
The coalition of eight Conservative and five independent councillors has already been rocked with two resignations since it started.
Last night, Mr Alexander admitted he had "swithered" about whether it was right to recruit for the posts.
He said: "Our management staff are under such severe pressure with the work that's being done that I'm convinced it's not right to let them continue to struggle on.
"I would certainly hope we come to a resolution but you never know. There are also other councillors in the building apart from those currently in the administration."