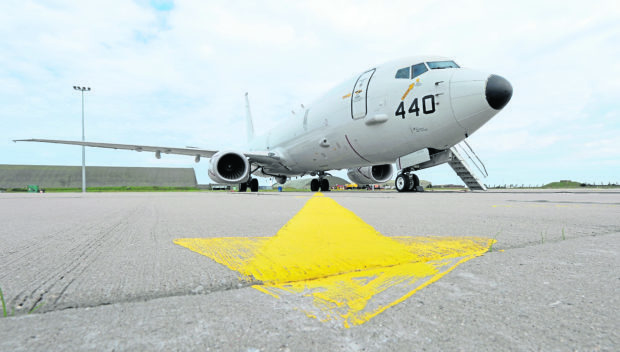 Lossiemouth's submarine-hunting aircraft should double in number to defend against the increasing Russian threat, MPs have recommended.
Westminster's defence committee believes the size of the squadron of Boeing P-8A Poseidons at the base should rise from nine to at least 16.
The P8s are a "key component" of anti-submarine protection and are expected to play a key role in tempering Russian aggression.
Construction has already begun on a huge hangar to house the nine new P8s, worth £3 billion, which will begin arriving in Moray in 2020 and are expected to lead to nearly 500 extra personnel being deployed there.
Now Westminster defence committee chairman Julian Lewis has said the current plans need to be pumped-up due to increasing reports of incursions into North Atlantic waters by Russia's navy and airforce.
That could lead to a significant increase in personnel at RAF Lossiemouth, strengthening the community once more.
Mr Lewis said: "We have received detailed written evidence from former RAF officers with extensive experience of anti-submarine warfare operations who argue that the intended aircraft and crew provision for the maritime patrol aircraft force is too low to fulfil the range of tasks under its responsibility.
"Unrealistic assumptions have been made about the ability of NATO allies to contribute to maritime patrol aircraft provision and that at least 16 aircraft and a higher crewing requirement is needed to attain the necessary coverage."
Evidence from two retired RAF chiefs and an academic expert all pointed to the current plans for nien aircraft being insufficient.
Retired Air Vice-Marshal Andrew L Roberts said current plans were "undoubtedly inadequate to fulfil even the highest priority tasks" and recommended more seven more aircraft be ordered in before autumn next year.
Retired Group Captain Derek K Empson labelled NATO's maritime patrol aircraft capabilities as "extremely weak" and said Lossie's nine P8s would be "insufficient to guarantee sustained, continuous and concurrent" anti-submarine protection.
Security expert Jie Sheng Li agreed "nine P-8s will not cover the anti-submarine warfare threat to the UK, especially with only eight Type 26 frigates".
SNP MP Martin Docherty-Hughes, who sits on the defence committee, called on Moray MP Douglas Ross, Conservative, to back the report findings.
Mr Docherty-Hughes said the SNP supported increasing the number of "vital and versatile" P8s at Lossie.
He said: "With Russian submarine incursions into Scottish waters reaching Cold War levels, the threat picture has changed considerably since 2015.
"I fully agree with the committee's findings that the current plan is wholly inadequate to undertake all of the tasks expected of it – especially when we consider that our neighbours Norway have ordered five, despite having a much smaller population."
Moray MP Douglas Ross said Lossiemouth and Moray stood ready to support any increase in the number of P8s and personnel.
"Moray and RAF Lossiemouth are preparing for the arrival of the nine P8s that have been ordered and this commitment should not be underestimated," Mr Ross said.
"It will bring more than 400 jobs to Lossiemouth, where £400 million is also being invested in infrastructure to support the aircraft.
"This is a substantial and welcome investment and shows the importance of Moray and Scotland to the defence capabilities of the UK.
"The report rightly recognises that the UK needs an effective maritime patrol aircraft capability to keep our country safe and the UK Government has addressed this with the P8s already heading to RAF Lossiemouth.
"But I hope the Government looks carefully at the recommendations in the report, specifically those calling for additional maritime patrol capability.
"The UK must be able to defend itself, and we know that hostile incursions into UK waters from foreign submarines are on the rise.
"This is not an area where we can afford to take risks and, if necessary, the Government should consider additional aircraft and crew."