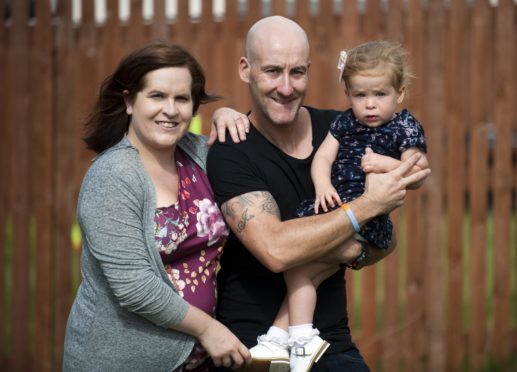 Little Demi Addison is a bundle of energy – but at eight-months-old her parents were told she suffered a stroke before she was even born.
The brave toddler, who turns two this week, is thought to have been strangled by the umbilical cord in her mother's womb for four weeks.
It was cutting off her oxygen and food supply and her heart rate started to plummet.
Medics only noticed she was in trouble when mum Erin, 26, went for a routine check-up when she was eight months pregnant and found the baby had stopped growing.
She was referred from her local hospital in Buckie, Moray, to Dr Gray's Hospital, in Elgin, where it was a race against time to save the baby.
And just two-and-a-half hours after she arrived, Demi was born a month early, weighing 4lb 6oz.
First-time mum Erin, from Buckie, Moray, said: "It was a bit of a shock having a baby by the end of the day. But we are lucky I had the appointment when I did.
"I don't know what would have happened if it had been the day after. It could have been a totally different story."
But it was not until Demi was eight-months-old that Mrs Addison and husband Kevin were told their daughter had suffered a stroke in the womb.
It has left the youngster with a condition called hemiplegia, where one side of her body is weaker than the other.
After the diagnosis, doctors said she would not walk until she was at least two years old.
But Demi proved them wrong and was on her feet before she was 18-months-old.
And against all odds, the brave tot is already on to her next challenge – learning to talk.
Mrs Addison said: "We are so proud of her. Nothing phases her and she is so determined."
Coupled with that determination and continued therapies, doctors now hope by the time she is eight she will be no different to her peers.
Dad Kevin, who plans to cycle the length of the country in nine days next month to thank the charity, Hemihelp, which has helped them through the last year, said: "Her heart rate was becoming more and more unstable. It was going flat and then beating.
"We were waiting for the ambulance to take her to Aberdeen Royal Infirmary but then the consultant came through and said we don't have time to take you to Aberdeen and 20 minutes later Erin had an emergency caesarean.
"We've got to be fortunate that Erin had the appointment when she did, because even [if it was] the next day, it's highly unlikely Demi would be here."
To donate to Mr Addison's bike challenge, visit www.justgiving.com/fundraising/kevin-addison1