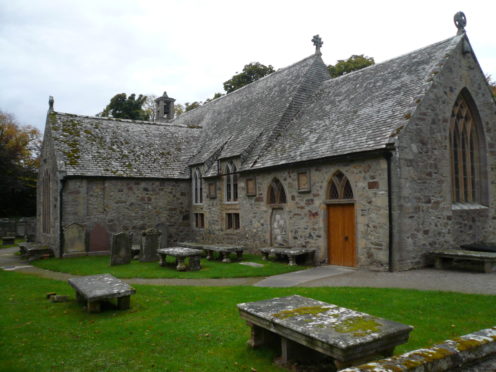 A centuries old Moray church is to undergo a £300,000 upgrade to ensure it remains sustainable for generations to come.
Formally a royal residence, the 800-year-old Cullen and Deskford Church remains a monument of rich historic origins, with connections to the King Robert the Bruce.
Since its establishment in 1236, the congregation of Cullen has remained dedicated to preventing the building from falling into a state of disarray through raising money towards conducting relevant upgrades on the church.
In 2016, the parish commissioned LDN Architects to conduct a full strategic study on the structure in a bid to identify and cost a programme of works for the structure.
And now the North East Preservation Trust has launched a search for the best architect and design team for the £300,000 project.
A major overhaul of the buildings roofs is to be conducted, while the external and internal walls will be repointed. A new heating system and a disabled toilet will be installed, and drainage works will also be carried out.
---
---
Stewart Black, chairman of Cullen and Deskford Community Council, said the work would allow the church to remain a prominent part of heritage for years to come.
He said: "The Auld Kirk in Cullen has a history stretching back several centuries. This grant should ensure that the building is preserved for future generations, both as a place of worship and as a unique piece of Cullen's history.
"We are thankful that the North East Preservation Trust has recognised the need to maintain the building. We thank them for the grant allocation and the members of the Auld Kirk who have worked hard to firstly raise awareness of the building's needs and found time to fundraise for the necessary repairs."
In the 13th century, Robert the Bruce bestowed an 'eternal' bequest on the church after his wife Elizabeth de Burgh fell of her horse and died during a visit to the Auld Kirk in Cullen.
In the hours following her death, fears were raised that her remains would not survive the journey back to Fife, resulting in her soft organs being buried at the church.
In memory of his late wife, Robert the Bruce bestowed a chaplaincy on the church which remains in order today.
The church was also used to stable the horses for the Duke of Cumberland's army, which was formed around Cullen.