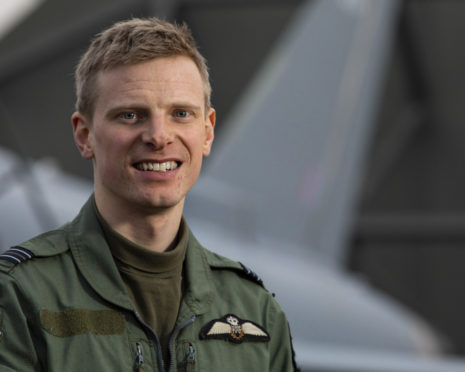 A top gun pilot from RAF Lossiemouth has been awarded a bravery medal after destroying booby-trapped trucks and an arms cache during a gruelling Middle East mission.
Flight Lieutenant Thomas Hansford was on his first mission as a lead pilot when he made the strike in Syria last year as part of the UK's fight against Daesh.
The north-east ace, who serves with 1 (Fighter) Squadron, has had it confirmed he will be given the Distinguished Flying Cross for his courage in protecting friendly forces and civilians who were under fire on the ground.
---
>> Keep up to date with the latest news with The P&J newsletter
---
Flt Lt Hansford had already been patrolling the sky above Syria for five hours when he and another pilot spotted the bomb-rigged trucks blocking the road to Hawijah.
The pilot negotiated the journey through thunderstorms to blow up the lorries on September 23 last year before flying back to the RAF Akrotiri base in Cyprus.
When his Typhoon jet eventually landed, after destroying a weapons stockpile, he had been at the controls for more than nine hours – at the time a record for the UK operation in the region.
The airman has been named among 30 armed forces personnel who will receive bravery and commitment medals from the Royal Family next year.
Squadron Leader Chris Wright, who is also based at RAF Lossiemouth and has since been promoted to Wing Commander, has been made a MBE for leading the tactical proficiency for 1 (F) Sqn and for his "outstanding" performance in combat with Squadron Leader Robert South receiving the Joint Commanders Commendation for leading his team of engineers.
And Wing Commander Chris Hoyle, officer commanding 1 (F) Sqn, will receive the Queen's Commendation for Valuable Service for his leadership.
He said: "The recognition the 1(F) Squadron has received is a reflection of the exceptional effort, dedication and fortitude that the whole team displayed during its five-month operational deployment.
"The team's hard work, talent and commitment paid off and delivered a chapter befitting the squadron's rich history.
"It was my profound honour to have served my nation as part of such a capable, professional and spirited team."
The RAF has been assisting Syrian Democratic Forces and Iraqi Security Forces on the ground for more than three years.
More than 5.5 million people have been freed from Daesh rule during that time with more than two million Iraqis being able to return home.