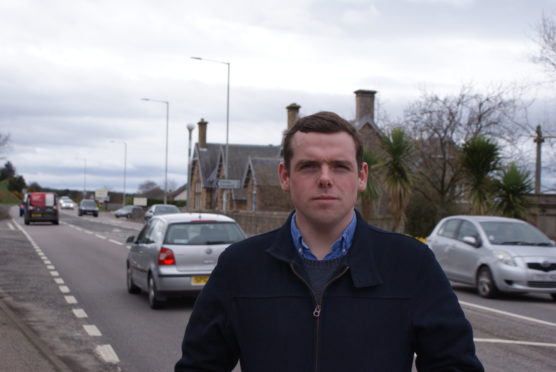 The speed limit on a stretch of the north-east's busiest trunk route could be reduced to 20mph outside a Moray primary school amid concerns for the safety of pupils.
Parents of youngsters attending Alves Primary School have repeatedly raised fears about their children crossing the A96 Aberdeen to Inverness road to reach the building.
The stretch in question has a 40mph speed limit but residents claim that drivers frequently flout that restriction.
Now Transport Scotland has confirmed it will investigate the possibility of reducing the speed limit to 20mph while pupils are going to classes and returning home.
Moray MP Douglas Ross brought the concerns to the organisation and has now received a letter stating its plans.
Transport Scotland chief executive, Roy Brannen, told Mr Ross that a speed survey carried out in 2017 indicated that most motorists complied with the 40mph limit.
But he added: "In light of the concerns you raise about traffic behaviour, and the proximity of Alves Primary School, we will instruct our operating company to investigate the possibility of installing a part-time 20mph speed limit in that area."
The letter advised that operating company, Bear Scotland, will also look into whether the pedestrian crossing arrangements are up to scratch.
A survey of people who regularly cross the route will be completed by August.
Mr Ross said: "Concerns about traffic and speeding vehicles have been raised on many occasions, so I'm encouraged that Transport Scotland is taking the matter seriously.
"While this will not alleviate all of the concerns that have been raised with me, it is a step in the right direction.
"There is a real risk someone could be hurt if nothing is done, parents and residents are getting increasingly concerned."
In 2017, local parent Alan Taylor said he was scared for his daughter "every day" as she walked to school.
The father-of-three said he was so worried about the road that he had considered sending the girl to school via bus – despite living just across the road from the building.
Last night, Mr Taylor said he would be surprised if Transport Scotland ordered any safety improvements along the road given its reluctance to in 2017.
Moray MSP, Richard Lochhead, visited the spot in question himself at the time and said it helped him appreciate how worrying the situation must be for Mr Taylor.