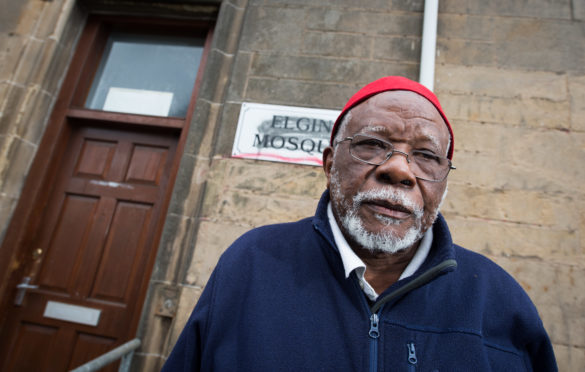 Vandals have carried out an "abhorrent attack" on a Moray mosque.
Swastikas and other offensive graffiti were spray-painted across three walls and several windows of the Elgin place of worship.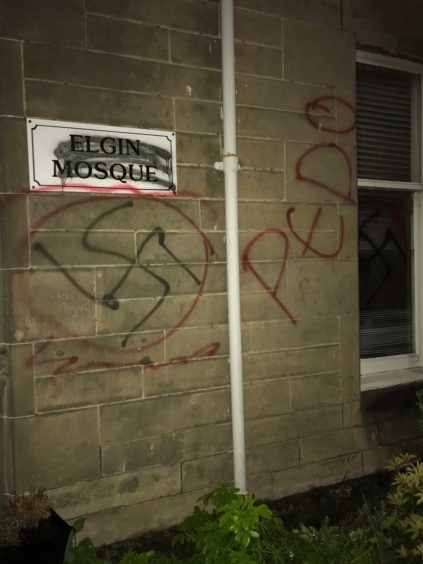 Locals arriving for evening prayers during Ramadan were met by the "racist vandalism".
Police have said they will step up patrols in the area, and have revealed they are hunting for man in his 30s who was seen in the area when the incident occurred at about 11pm on Monday.
Last night, leaders from the Elgin and District Islamic Mosque thanked the community for their support, and stressed they were treating it as an isolated incident.
Chairman Lansana Bangura revealed he arrived at the South Street building for evening prayers just minutes after it is suspected the vandal daubed the offensive slogans on the walls.
Yesterday, the retired engineer who lives in Garmouth said he had not seen anything like it since moving to the region 30 years ago.
He added: "It was dark so I didn't notice it when I arrived. Then the police knocked on the door at about 11.25pm and showed me. It was very surprising, not what I expected to see.
"We still feel comfortable in Elgin and everywhere else because we are spread across Moray.
"If somebody really wanted to make us uncomfortable then they would have started smashing windows and everything else – so we still feel quite happy and relaxed, people have been very supportive."
Another member of the congregation said: "This is terrible. We've never have had anything like this happen, I wouldn't have expected it to happen here."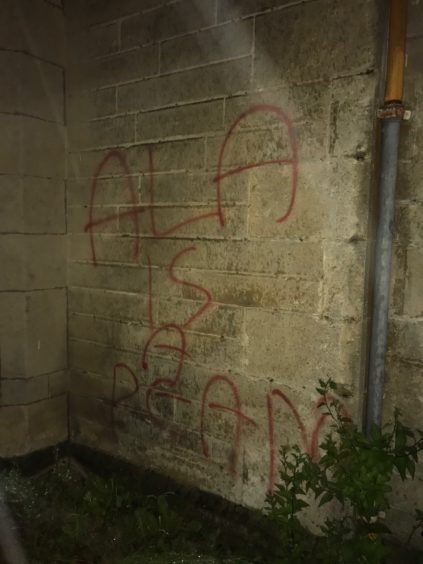 Cleaning teams sent to the mosque by Moray Council blasted the offensive graffiti off the walls yesterday morning.
The mosque opened about five years ago to give the local Muslim community a focal point in Elgin. Halls were previously rented for prayers.
Police have appealed for anyone who saw a man in his 30s, who is about 5ft 10ins, in the area at the time. He has short brown hair and was wearing blue jeans and a dark hooded top.
Moray MSP Richard Lochhead, whose constituency office is next to the mosque, condemned the vandals.
He said: "I was disgusted and saddened to hear of the vandalism. This is an abhorrent attack on our local Muslim community in this month of Ramadan.
"It is more important than ever that we all stand together and speak out against such senseless and racist vandalism."
Detective Inspector Martin MacDougall added: "Crimes of this nature are completely unacceptable.
"There is absolutely no place for it in our community and a number of inquiries are ongoing to establish who is responsible.
"We are in contact with the mosque and patrols will be increased in the area while our investigation continues."
Moray MP Douglas Ross said: "The strong community bond in Moray will not be damaged by the reckless and thoughtless actions of a mindless individual or small group of individuals."
Highlands and Islands MSP Jamie Halcro Johnston said: "While this incident should not be allowed to damage the relationship between the mosque and the local community in Elgin, it is entirely understandable that this will be a worrying incident for those who use the mosque."
Gutted to see this. My mum is from Lossiemouth, right next to Elgin, and I still have family that live in Lossie and Elgin. Spent most of my childhood Easter and summer holidays there. My uncle is a trustee of this mosque and my gran's funeral was there. So so sad. https://t.co/1HXB7qxiak

— Anas Sarwar (@AnasSarwar) May 21, 2019
Disgusting stuff. If anyone in Elgin has any information on who did this, they're urged to contact police on 101. https://t.co/6OixPpEaGV

— Ruth Davidson (@RuthDavidsonMSP) May 21, 2019
Anyone with information should call 101.