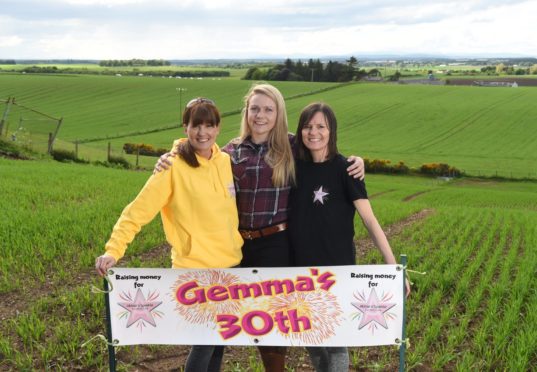 A Moray nurse marked a milestone birthday in a selfless fashion by raising more than £1,400 for a local children's charity which aims to improve life for youngsters undergoing cancer treatment.
Gemma Anderson, who lives just outside of Alves, enjoyed a 30th birthday party at the Loft in Forres where she asked attendees to donate what they could to Abbie's Sparkle Foundation – an organisation close to her heart.
Proceeds from the bar and from the raffle led to £1,444.41 being amassed, which will go to the legacy charity which was founded in memory of Elgin teenager Abbie Main.
Abbie died on Christmas Day 2017 after living with Sarcoma, a rare form of cancer, for more than four years.
Ms Anderson said she was inspired by the story of Abbie's fight against the illness, and by the good work carried out in her name.
She said: "I am an advanced nurse practitioner and I work with Abbie's auntie Angela, so that's how I got to know about the charity.
"It is good to see how the money you donate is used, and how it goes towards children doing activities where you can actually see them enjoying themselves."
About 150 guests attended the occasion, and were encouraged to take part in a raffle where prizes such as quad biking, trips to Landmark and photography sessions were up for grabs.
Instead of asking for presents, Ms Anderson asked for donations and was surprised to see how much money she ultimately collected.
She added: "I thought using a birthday party to fundraise for charity was a great idea, especially after seeing how much money has been raised.
"It will be brilliant to see how much good work is done with the money."
It is not the first time Ms Anderson has used her birthday celebrations to perform a good deed, as she hosted a party for her 21st which raised more than £500 for Macmillan Cancer Support.
Abbie's Sparkle Foundation is dedicated to spreading cheer to children undergoing challenges due to cancer, by giving out gifts and grants to them.
The donations handed out are known as "sparkles" and the group has distributed about 200 since being formed.