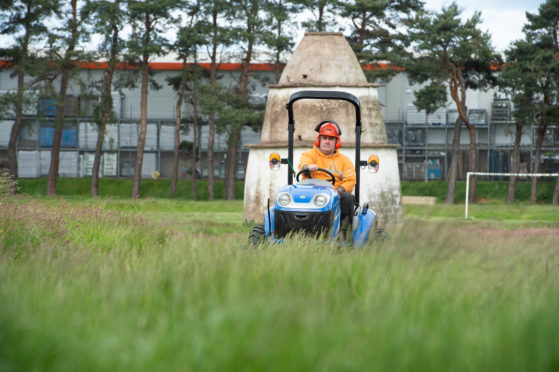 A Moray community has banded together to cut the grass in a beloved park after becoming fed up about how long it has grown.
A small army of  volunteers has put in hard graft at the Doocot Park in New Elgin, which is popular with children who live nearby and football teams.
Locals initially used a sit-on mower to try and tackle the stringy grass at the weekend.
When that failed, a small tractor was called in to help with the efforts yesterday morning before a full-size farm vehicle was used to finish the job in the afternoon.
Meanwhile, a crew armed with strimmers tidied up the edges of the park.
Anger has grown across the region following Moray Council's decision to cease grass cutting in some areas in order to plug a £10 million budget gap.
Last night volunteers who pitched-in to help explained they were not motivated by anger at the move – but instead out of pride for the community where they live.
Businessman Chris Hay, who runs a building and groundworks firm from New Elgin, said: "I heard that folk were out in the morning.
"They managed to do what they could and I thought we would do the rest.
"We understand the council is low on funds. We're just doing it out of community spirit to do something to help the people who live here."
Communities across Moray have taken alternative views on how to keep their most picturesque grassy spots looking their best.
Lossiemouth's community council received an anonymous donation to pay the authority to keep cutting the playing fields, while the Cullen group also paid to ensure Logie Park is maintained until the end of the year.
It is understood other communities have asked for quotes from Moray Council about how much it would cost to see mowers returned to their own parks, while some grass in Forres is also being cut by kind-hearted volunteers.
Councillors unanimously supported reducing grass cutting in the face of huge budget cuts but the authority's Conservative group has called for it to be looked at again following public outcry.
Elgin City South councillor John Divers said: "The grass cutting has caused upset but it's either that or jobs going elsewhere.
"The council is getting less money coming in so it has to reduce its costs accordingly.
"It's good to see the spirit that's present as nobody wants to see their community look shabby."