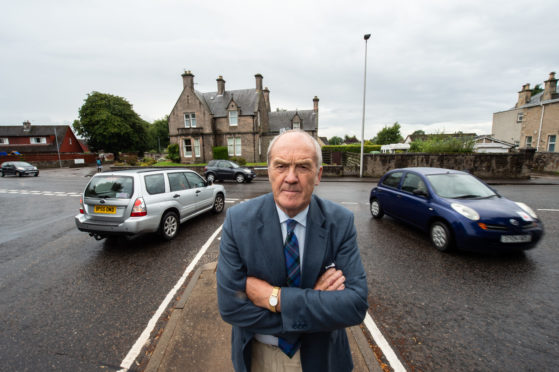 A former teacher in Moray fears an anxious race against time to install traffic lights at a busy junction used by school pupils.
A crossing has been promised by the council at the St Catherine's Road and Orchard Road junction in Forres for more than three years.
However, the project has been repeatedly delayed due to a lack of cash.
Now Forres councillor George Alexander, who used to teach maths at the nearby Forres Academy, fears an accident may be inevitable there.
Youngsters walking to Pilmuir Primary School and Applegrove Primary School, which are near the junction, will be forced to cross the road for the first time without crossing patrollers later this month after they were withdrawn to save cash.
Yesterday Mr Alexander made a fresh appeal to have the traffic lights installed as soon as possible – but feared time was running out.
He said: "Since 2016 the traffic department has been telling me the lights for Orchard Road were on the near horizon – might be next year, no the next financial year.
"I know the whole things planned but there's no date for the lights. It's one of the most dangerous junctions where we've removed the lollipop lady from.
---
>> Keep up to date with the latest news with The P&J newsletter
---
"I'm terrified we'll have an accident there."
Mr Alexander added: "One of the answers I've had in previous years is that the council is trying to get match-funding to make better use of the money it has for a bigger project instead of just the lights.
"Having taken away the school crossing patrol, I think if there's money to put the lights in, forget anything else. Let's get this job done before there's an accident."
Yesterday Graham Hilditch, chairman of Forres Community Council, said his group had also been pursuing traffic improvement at the junction for at least four years.
He added: "With all the housing development being built in that area it's getting worse all the time. We've been pursuing these lights for ages.
"There's quite a build up of traffic in that area, particularly at school times. Another problem it's causing is that people are turning up Castle Street to try and bypass it all.
"We've just been fobbed off about the reasons it hasn't happened for years."
During yesterday's full council meeting Rhona Gunn, the council's director for economic development, infrastructure and planning, said a "funding gap" was one of the issues responsible for the delay to the Orchard Road project.