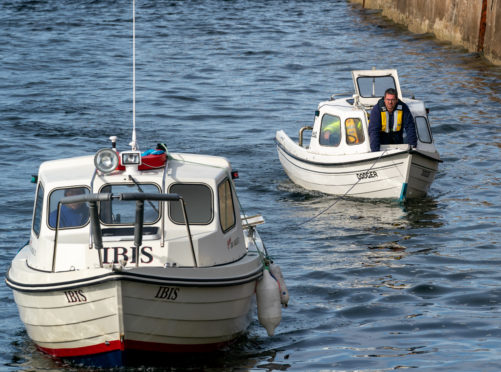 A stricken boat was towed ashore today after two men were rescued "just in time" before it hit the rocks off the Moray coast.
The Buckie Lifeboat, Burghead Coastguard crews and volunteers from the Moray Independent Rescue Organisation (Miro) attended the scene and a rescue helicopter from Inverness was called after a flare was spotted off Hopeman late on Monday night.
The 15ft powerboat started drifting towards the rocks when it lost all power, and a Coastguard spokesman said the men "were rescued just in time".
Two members of the team swam 160ft out to sea towards the Dodger to rescue the men, who were safely transported to shore within half an hour.
Both were safe and well and did not need medical attention.
The boat remained stranded on the rocks overnight but was hauled into Hopeman Harbour yesterday when the conditions were deemed safe.
Miro operations manager, Peter Mackenzie, said: "We were requested to establish if the casualty vessel could be towed off the rocks.
"But due to the wind direction, sea state and proximity of rocks this was deemed unsafe and a decision was made to leave the casualty vessel in situ on Monday night.
"Leaving the boat on the rocks until the following morning did not pose any safety or pollution issues."
He added: "Careful planning is important before sailing – it's critical.
"You need to make sure you have enough supplies and spare parts in case something goes wrong.
"The weather conditions and the tide are also something to bear in mind. Sailing is about enjoying the experience and, while our crew are well experienced, the weather conditions when the boat was rescued were not the best conditions to be out sailing in."
Mr Mackenzie was unable to comment on whether or not the individuals rescued were ill-equipped when they had set out sailing.
In a Facebook post, the Moray Coastguard urged people to take precautions before going out to sea.
A spokesman said: "Ensure someone on shore knows your passage plan, including points of arrival and departure, how long it should take, the number of persons on board and any other relevant information."
The post also stated the importance of ensuring all passengers on board have life jackets and for the crew to have a working VHF radio.