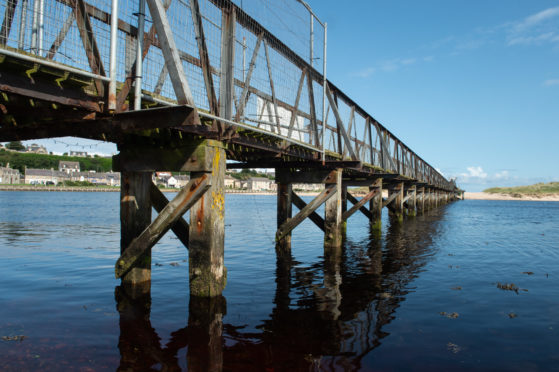 Warnings have been made that a replacement for a busy footbridge on the Moray coast will not be open until 2021.
Traders in Lossiemouth have been devastated since the town's East Beach crossing was closed in July due to fears it was on the brink of collapse with some businesses reporting that takings have halved.
The Scottish Government has committed to funding a replacement of the 100-year-old wooden structure.
However, it is understood that the extensive project will take more than a year to complete with an options assessment to be done early in the New Year with designs, planning permission and securing required land also needing to be completed.
Rab Forbes, chairman of the Lossiemouth Community Development Trust's bridge committee, said: "Nothing I have seen suggests that it will be ready during 2020.
"From the discussions we have had with Moray Council, and to a lesser degree the Scottish Government, 2021 appears to be a more realistic target."
The first phase of planning for the new bridge will involve the trust funding an options appraisal in the coming months which will examine where it could be built and what form it may take.
The second phase will involve the Scottish Government funding the design and construction based on the outcomes from the trust's report.
However, Moray Council's legal officers have warned that it may take up to 18 months to secure the necessary land next to the River Lossie through compulsory purchase orders.
Equipment installed on the bridge by the trust counted 4,000 people using the bridge on Good Friday alone earlier this year.
It is understood that the weight of beach-goers during some of the hottest days of the year in July caused some of the structure to buckle under the strain.
During a visit to the town, Tourism Secretary Fiona Hyslop said the bridge's connections to the tourism industry made a "compelling case" to fund the project, which may eventually cost up to £1million.
Mike Mulholland, chairman of Lossiemouth Community Council, stressed delays to the project must be kept to a minimum.
He said: "We all accept it is going to take a while for this to happen, all we can do is just make sure that the unnecessary delays and hold-ups don't happen and it can all be done as quickly as possible.
"I don't think any of us realised how many people were using it so all of these people could be going somewhere else in 2020. We need to keep that disruption as short as we can."