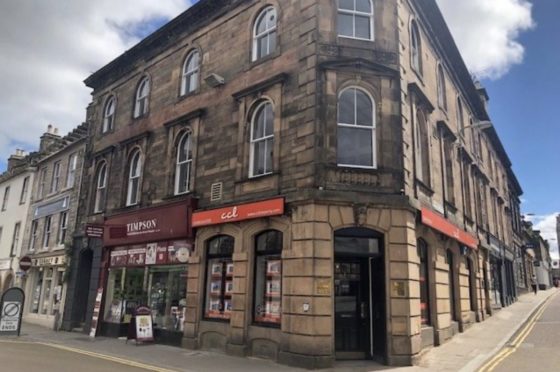 A historic but derelict property overlooking Elgin High Street will be transformed into luxury flats in the new year after being bought by a local business.
The mid-19th Century three-story and attic corner block at 58 High Street is registered with Historic Scotland and is a prominent town centre building.
It boast views over Elgin's St Giles Church on the plainstones but has been looking for a new injection of life for some time.
The impressive terraced building has been left in a state of limbo following the collapse of previous renovation attempts.
Now property development company Prestige Rental Properties Scotland is looking to invest and finally bring about change.
After a somewhat gruelling buying process, due the history attached to the building, local property developer Danny Underwood fought off tough competition from several interested parties to secure the sale last week.
Mr Underwood said he was "absolutely relieved" to have taken the property off the market.
The experienced developer says the building has immense potential and he has an exciting future planned for his latest acquisition.
The company plans to convert what was formerly office space into three luxury rental flats comprising – two three-beds and a one-bed.
It will also undertake extensive external works to bring the building back to its best.
Mr Underwood said: "I can assure everyone that it will be quite something when it's completed."
The property company specialise in renovating dilapidated spaces and buildings into high-end rental flats.
Mr Underwood is keen to preserve buildings that are part of the landscape of a town such as Elgin and operates by his rule: "If it can be saved, then I'll save it."
He added: "This project will not only be beneficial to myself and whomever eventually resides there, it will be a credit to the entire town centre.
"Preserving and enhancing these historic buildings is very important to me and thankfully, the council are now looking more favourably upon those willing to do so."
Mr Underwood said he had already been contacted by people reaching who wished to tell him about the relatives who lived in the block in years gone by.
He added: "In a way, this restoration will also be for them as they'll be able to look at the finished article and recall those fond memories."