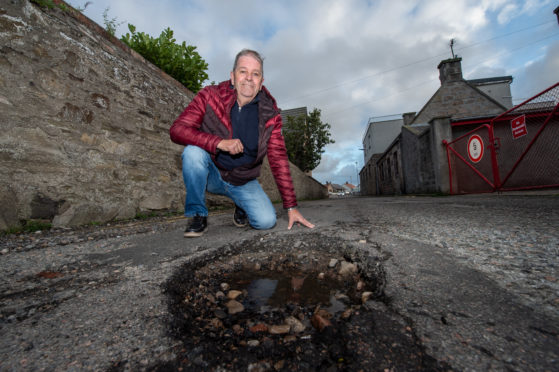 Moray's roads have "deteriorated" at a rapid pace since a council decision to reduce investment six years ago.
When setting the authority's budget in 2014, councillors agreed to scale back spending on maintenance.
Roads were in comparatively good shape at the time, and there was a belief that – despite the cut – they could sink no lower than "mid-point" in a national league table documenting the state of Scotland's council-owned routes.
A report prepared ahead of a meeting of the council's economic development and infrastructure services committee tomorrow has been described as a "wake up call"
It reveals that Moray's roads have experienced the largest deterioration in Scotland in the last six years.
Unclassified roads have suffered the most damage, plummeting from fifth place in the league table of 32 councils to 16th.
B roads have fallen from eighth place to 12th, and A roads from fourth to eighth.
The report states: "It is clear that these figures are now increasing more aggressively than in previous years.
"Moray has had the largest network deterioration during the last six years."
The dossier, authored by roads maintenance manager Mark Atherton, urges the committee to agree investment plans to stave off the decline.
Council leader, and committee chairman, Graham Leadbitter, was one of those who voted in favour of the cut in 2014.
He said the move allowed the authority to plough more cash into education and social care.
The SNP councillor said: "The amount of money it has freed up, to protect a range of other council services, has been quite significant.
"However, the policy is getting to the end of its lifespan and there will need to be regular reviews, as we have to be careful that the condition of our roads doesn't go over the cliff edge."
However fellow committee member, Gordon Cowie, described the report as "a wake up call".
Tomorrow he will demand that the policy is immediately reviewed – two years ahead of schedule.
He added: "I don't think our roads are at the stage of being a concern to public safety yet, but I do think it's time that we were looking seriously at reinstating the maintenance.
"All we currently have is surface dressing, instead of resurfacing, which is effectively sticking plasters to hold them together.
"It's caught up with everyone quicker than they thought."
Mr Leadbitter said councillors should "think very carefully" about when and how to pull back from the current policy.