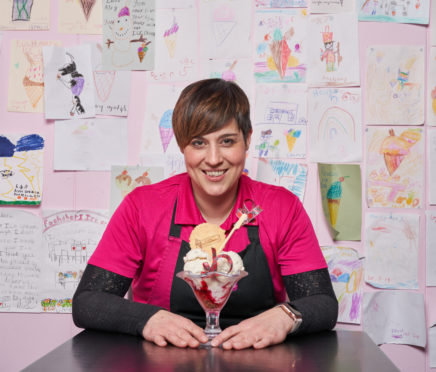 A Moray ice cream parlour that is famous for its wacky creations has launched a new flavour today that combines two special days for two different cultures.
After realising that Robert Burn's Night and the Chinese New Year will both occur on same day this year, Sheila Gray, of Fochabers Ice Cream Parlour, decided to marry the two cultures with the interesting fusion.
Miss Gray has combined a haggis flavoured ice-cream with vibrant red sweet and sour sauce rippled throughout and adorned with Chinese crackers.
Miss Gray, who is a fan of the unique ice cream flavour herself, said: "The flavour is just a bit of fun but it's bringing two cultures together and it's all part of the fun to include everybody."
The sweet but savoury treat will be available in the popular ice-cream parlour from today.
Asked what customers of the parlour, which regularly sells eccentric flavours such as macaroni cheese and a smoked salmon sorbet, will make of the Scottish and Chinese inspired ice-cream, Miss Gray said: "I'm sure they'll say it's Sheila gone crazy again."
'Better than sex' haggis-flavoured ice cream from Moray leaves MPs in stitches
She added: "I think people expect us now to do something different but I don't think anyone would think of combining the two cultures on the same day. My ethos has always been to be innovative and wacky flavours has become our trademark."
The firm Fochabers-favourite generated buzz last year with their haggis, neeps and tatties ice-cream to honour Burn's Night which regular customer Charlie Armour described as "better than sex."
Miss Gray said: "I doubt we could ever top that comment but Charlie hasn't tasted this year's flavour yet so you never know."
The 85-year old's comment was even mentioned at the House of Commons by Moray MP Douglas Ross.