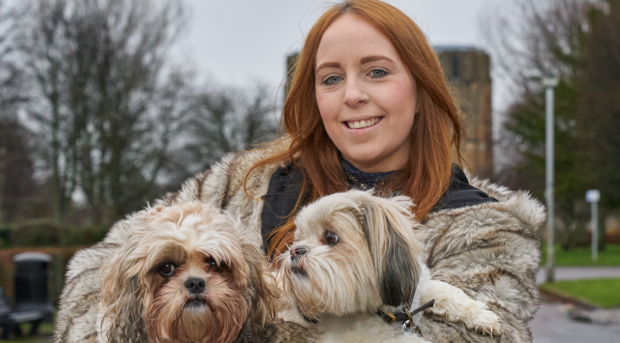 Campaigners horrified at the discovery of a suspected puppy farm in Moray last year have launched a creative campaign to promote responsible pet ownership.
More than 60 dogs were recovered from the site by the Scottish SPCA in October, with investigations still ongoing to establish any criminality.
However, the find shocked charity M:ade (Moray Arts Development Engagement) which has now launched a weekend of activities to stand against the puppy farm trade.
The weekend of events is also being supported by the British Veterinary Association, with Scottish branch president Kathleen Robertson, who is also a columnist for the Press and Journal, regularly seeing the effects of intense puppy farm breeding.
Stacey Toner, from Elgin, who founded M:ade, hopes the event will build bonds between owners and pets as well as illustrate how relationships with man's best friend can have a positive impact on mental health.
Ms Toner, who will be joined at the weekend by pets Maggie and Meryl, said: "As a team of dog lovers we were horrified at the story, but saw an opportunity to work creatively to raise awareness of responsible pet ownership.
"We wanted to create a weekend of activities to celebrate our pooches as well as our special relationships with vets who care for them and show we are an animal-loving community."
Mrs Robertson, who will join pet owners on a dog walk on Roseisle Beach near Burghead on Sunday, added: "As a vet practising in Moray, I've seen first-hand the tragic consequences resulting from puppies bred in deplorable conditions by unscrupulous breeders.
"They often suffer from disease and other health problems as well as poor socialisation, leading to heartache and financial costs for the new owners.
"Owning a pet is a life-changing commitment that should only be made after proper research, including talking to your local vet and using free tools such as the puppy contract or the kitten checklist."
The free M:ade for Mutts weekend will begin on Saturday at Elgin Library with an art workshop between 10.30am and 12.30pm to create campaign banners ahead of the community dog walk.
A creative writing workshop will then follow between 1.30pm and 3.30pm to explore relationships with pets.
Each event is limited to 15 places, which can be secured online via www.eventbrite.co.uk.
The community dog walk will begin at 11am on Sunday at Roseisle Beach.