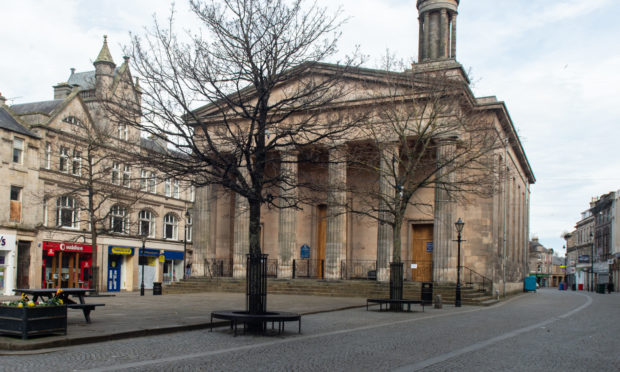 Streets across Moray have been earmarked for alterations to ensure shoppers and businesses can return to town centres once lockdown restrictions have been eased.
High Streets in Elgin, Forres and Fochabers and busy thoroughfares in Lossiemouth will have parking suspended in specific areas where queueing outside stores is likely to allow more room for social distancing.
Meanwhile, temporary barriers will be set up on the New Elgin Road railway bridge to allow more space for cyclists and pedestrians.
The changes will be made by Moray Council later this month as part of efforts to free up more space for pedestrians
The authority has stressed none of the alterations involve road closures – but explained further steps, including closures, extra signs and pavement markings, may be taken following a consultation.
Businesswoman Sarah Holmes, who runs Pencil Me In on Elgin's Batchen Street, has concerns about the speed and amount of traffic outside her shop but has encouraged the council to stop short of closing access.
She said: "I was attracted to Batchen Street when I opened because it is already semi-pedestrianised, but it can be tricky with parked cars and the pavement is narrow."
"I've heard some people say that the west end of the High Street should just be closed, but there are a lot of businesses there and quite good parking.
"Businesses who benefit from that parking would be impacted if they were to close that end."
Changes being made in Moray, which will come into force Friday next week, include prohibiting parking on the east end of Elgin High Street and on Forres High Street and Fochabers High Street, near the Co-op store at both locations.
Clifton Road in Lossiemouth near the ice cream shops will also be affected as well as Queen Street in the town near the Co-op.
A Moray Council spokesman said: "The restriction orders are an initial response to the physical distancing needs of essential shops which have been open through lockdown – mainly local food stores.
"Other local businesses have been asked what their plans and requirements are as more premises open to the public. Naturally the focus is on public safety and enabling the local economy to resume. Further restrictions may result from this consultation.
"The orders being advertised are not stopping any traffic from passing along a public road, they detail the temporary suspension of parking bays outside shops to allow space for people to pass queues on the pavement."