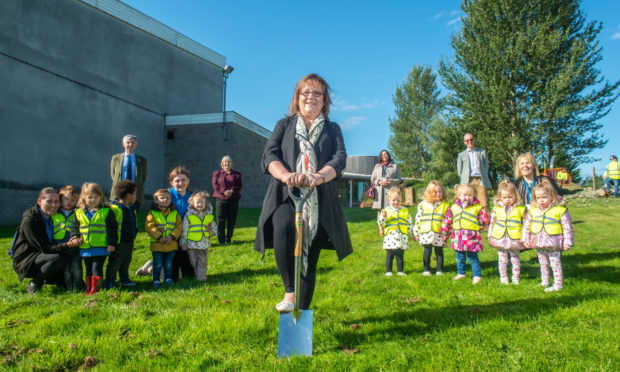 Construction has begun on a new £1.8million nursery in a Moray town to boost the amount of childcare hours available to families.
Youngsters are currently being looked after at a temporary home in Keith's Longmore Hall by provider Flexible Childcare Services Scotland (FCSS).
The Moray Council project is the latest in the region to be funded by the Scottish Government following other new-builds at Cullen and Pilmuir in Forres and refurbishments at Lady Cathcart in Buckie and Mortlach in Dufftown.
Contractors have begun working on the 60-capacity building next to Keith Grammar School with the first children expected to be welcomed through the doors in July next year.
Recruitment to boost the amount of annual childcare hours to the 1,140 per child pledged by the Scottish Government has proven challenging until now.
However, yesterday Robin Paterson, Moray Council's early learning and childcare project manager, explained recent drives had proven more positive.
He said: "We've just gone through a recruitment tranche for nursery managers and we've delighted by the response.
"The quality of applicants has been good and there have been a number of internal applicants wanting to develop too, which has been good to see."
Construction on another new-build nursery in Mosstodloch is also due to begin soon with a project at Linkwood Primary in the south of Elgin already underway.
Children who will attend the nursery in Keith were among the attendees at a ceremony yesterday morning to kick-start the construction.
However, the building is yet to be named with locals encouraged to suggest possibilities for the latest addition to Keith, which is known as the Friendly Town and was Scotland's first Scots Toun.
Nursery manager Eleanor Smith explained she hoped FCSS would provide parents in the area with more flexibility.
She said: "We're giving parents the opportunity to book their childcare by the hour so that they can continue with their existing work and training commitments.
"This will enable parents to be more efficient with their funded hours, saving them potentially hundreds of pounds each month by allowing them to book their childcare at the times when they need it most."
Sonya Warren, chairwoman of the council's children and young people's committee, said: "The additional places being created with this nursery is much needed in Keith and I'm looking forward to seeing it take shape.
"I'm also looking forward seeing what ideas people come up with for naming the new nursery as it's not every day we get to invest almost £2m into the town."
Name suggestions can be e-mailed to Ms Smith at eleanor.smith@fcss.org.uk
A shortlist will be drawn up after September 30, which will be available to vote on by local residents.