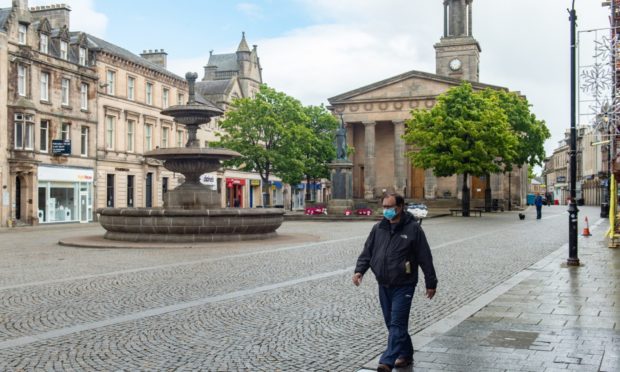 Lockdown restrictions could be poised to be eased across Moray, the Highlands and island communities next week as part of Scotland's new tiered approach to tackle coronavirus.
The Press and Journal has seen a letter from the Scottish Government to Cosla chief executive Sally Loudon outlining where individual council regions could be placed.
The proposals include Aberdeen City and Aberdeenshire being classed in level two, which is broadly similar to restrictions already in place.
However, Moray, Highland, Shetland, Orkney and the Western Isles could benefit from reduced infection rates during the pandemic by being placed in level one.
They could continue to face the added restriction of no home visits, however.
North-east likely to see tier two restrictions implemented next week
The move, which would come into effect on Monday next week, could pave the way for soft play areas, bingo halls and bowling alleys to reopen as well as football stadia to welcome back fans with restricted numbers and bars to serve alcohol indoors again without the need to buy a main meal.
The five regions collectively make up the parts of the UK least affected by Covid-19 per head of population.
Yesterday the Scottish Government stressed no final decisions had been made about where individual regions would be placed with talks due to continue this week.
First Minister Nicola Sturgeon, however, said during her daily briefing there would be "no immediate change" in restrictions "for many places".
If the north-east moves to Tier 2, what will the rules be around pubs, cafes, restaurants and socialising?
The tiered system is due to be debated in the Scottish Parliament today by MSPs before being implemented.
Highland Council leader Margaret Davidson explained she was "hopeful" the region would be placed in level one – but said she was still seeking clarity on the proposals.
She said: "At the moment we still have a lot of questions, particularly about visiting people inside homes. I also have some particular concerns around tourism and what will be allowed.
"We are still looking for clarification on those points."
Coronavirus in Scotland – track the spread in these charts and maps
The letter to Cosla, which represents all 32 Scottish councils, explained the regions placed in tier one would still be subject to the current ban on home visiting with "reinforced" travel advice about the risks of people bringing Covid-19 into the regions from elsewhere.
It adds that recent data from Dundee "gives cause for concern" with consideration being given to moving the city to level three, similar to restrictions already in place in the Central Belt, following about 60 new daily cases in the NHS Tayside area in recent days.
Meanwhile, North and South Lanarkshire are being considered for the highest tier, level four, despite signals the situation in those areas "may be stabilising".
The letter explains that the current situation means no area has been considered for level zero, which is the closest to normal without a vaccine.
It adds: "At this crucial stage in suppressing the virus, with higher case numbers, the winter approaching, and the introduction of a new strategic framework, the public health advice to Ministers is that it would not be safe to move any area straight to the lowest level."
During her daily briefing, Ms Sturgeon explained a region would have to demonstrate a "sustained" fall in virus transmissions to moved down a tier.
She said: "The best way of moving to a lower level of restrictions and of living more freely is to have a lower level of transmission of the virus.
"The best way we have of driving transmission lower and keeping it low is for all of us to stick to the rules that are in place at any given time.
"And that, of course, is a collective responsibility for all of us."
Meanwhile, the Scottish Government confirmed there were no plans to reduce the self-isolation period from 14 to 10 days amid reports the UK Government is considering it.
National clinical director Professor Jason Leitch said: "There's no present plan, but we keep it under constant review globally and locally and if we think the incubation period has changed or we think the risk has changed in some way, then we will of course advise appropriately."