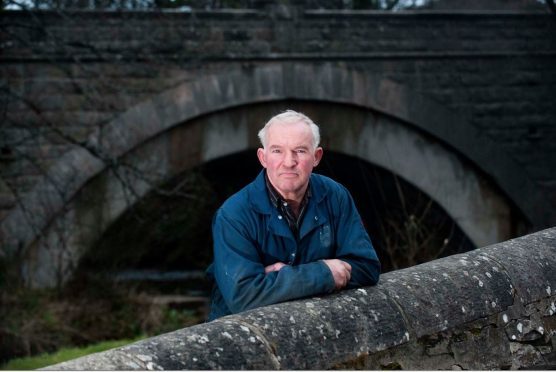 An outraged Moray pensioner has claimed a bridge in his hometown is still deluged with water months after devastating floods hit the region.
Alexander Morrison claims the drains on the Union Bridge in Keith had been left "choked up" with salt after heavy downpours last year.
He said that when it rains, the town's main thoroughfare over the River Isla gets "sodden" causing a danger for both drivers and pedestrians.
The 64-year-old semi-retired digger operator has complained to transport chiefs at the Scottish Government, Bear Scotland, local MSPs and councillors but claims eight weeks after making contact he has had little communication from the authorities.
Mr Morrison said: "This affects just about everyone and everything in the town.
"It's the main route over the Isla and most folk use that bridge to get into town but with the drains blocked up they're getting really wet.
"Cars can't help but splash folk and people have to use the bridge.
"I'm also worried that if it got frozen that could cause a big danger to cars and the people crossing.
"After a dry period, like we're having now, it's not too bad – folk can cross ok just now.
"But when it rains it fairly pours down and I just can't understand why nobody is coming along to sort it out."
Mr Morrison said the community council was also concerned about the problem, and described it as a "disgrace" nothing had been done.
"I think it's a disgrace in this day and age that it's been months and such an important bridge has been left to get like this," he said.
"It's a job that would take an hour tops, and nobody seems bothered."
Mr Morrison also claimed the various authorities had passed responsibility around each other.
Last night a spokeswoman for Bear said: "We are aware of some recent concerns with excess water at this location and have regularly attended the site.
"As there appear to be further underlying issues a drainage investigation is currently programmed to determine the cause.
"In the interim Bear will continue to monitor the location and attend to any issues."