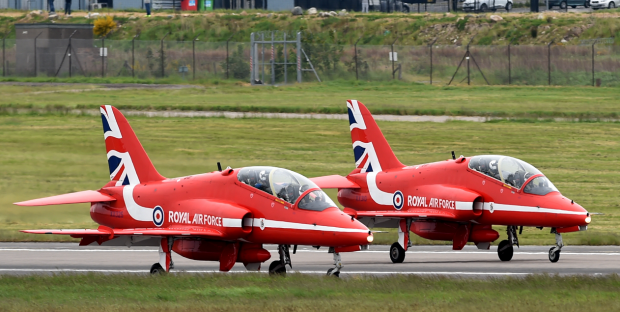 Aviation fans were treated to spectacular displays in Lossiemouth at the weekend.
The world-famous Red Arrows roared across the sky on Saturday afternoon with their trademark plumes of smoke following behind.
The popular display team was in Moray as part of the family day celebrations at RAF Lossiemouth.
Hundreds of onlookers parked their vehicles around the base and trained their eyes on the sky to watch as the planes did some of their signature stunts.
The jets did corkscrews, loops and starbursts while coming within metres of each other.
Low cloud made conditions difficult for the pilots to perform their aerial tricks. One of the planes was forced to land during the display after hitting a bird.
Later in the afternoon Typhoons stationed at the Lossiemouth base also put on aerial displays. This proved popular with onlookers.
Aaron Reid, 9, travelled from Alford with his family specifically for the Red Arrows.
He said: "It was really exciting. I liked it when they all split apart at the end."
Paul Gordon, 31, from Elgin said: "You don't get to see things like this very often so it's good to come out for it."
While in Moray the Red Arrows performed a flypast at Elgin before flying back to Aberdeen Airport, where they were based at the weekend.
RAF Lossiemouth Station Commander, Group Captain Godfrey, said: "This has been an incredibly busy time at RAF Lossiemouth as we support operational missions around the world.
"Our personnel always give their best, and the valuable support provided by their families and friends is never forgotten. Our families and friends day is a way of getting the whole station together to say thank you for their continued efforts during such times."