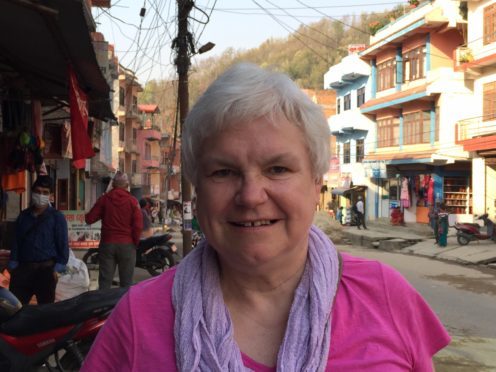 Ministers from Moray who have witnessed the recovery of an Asian country from a devastating natural disaster have urged Scots not to be "cynical" about foreign aid.
Today marks the third anniversary of a huge earthquake in Nepal that claimed the lives of nearly 9,000 people.
The quake lasted only 45 seconds but left 800,000 buildings in ruins and their reconstruction will take many years.
A group of Church of Scotland members have recently returned from the country where they saw first-hand the effect donations from their congregations are having.
The Rev Anne Attenburrow, a retired minister from Elgin, spent 10 days in the remote hilltop area of Dhading alongside with Elgin High minister Rev Stuart Duff.
She said: "The most amazing thing was they didn't see themselves as victims.
"This awful thing has happened to them and their families but they are resolved to rebuilding their towns and villages.
"It was one of the worst hit areas, just next to the epicentre, but the recovery has been impressive. There's such a strong community spirit.
"The effects of the earthquake can still be seen. Some buildings are still in ruins, but the donations have helped take preventative steps to help safeguard homes against future earthquakes."
During their visit, Mrs Attenburrow and Mr Duff trekked through remote regions and preached in churches with the aid of interpreters.
In the wake of the natural disaster, Church of Scotland congregations collected £310,000 with about £3,400 coming from Moray.
The money has helped fund the United Mission to Nepal (UMN) charity, which has built 72 earthquake resistant schools, 33 miles of roads and paths and installed water taps for communities to assist in the recovery.
Nearly 600 masons have been specially trained to assist in building homes across the Dhading region.
Joel Hafvenstein, executive director of UMN, said: "We have seen there are good reasons to have safeguards in the international aid process but that should not be reason for cynicism.
"When you investigate some of the work you will see there is tremendous and transformational good being done in countries like Nepal."