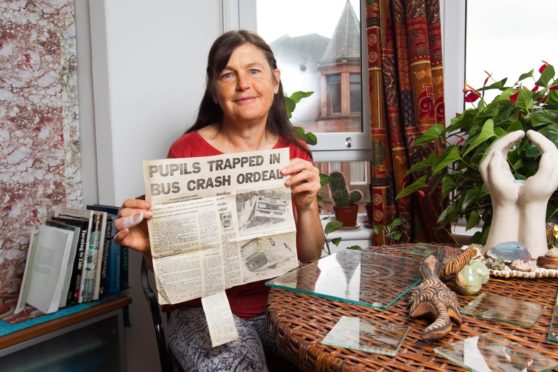 A Moray woman who was involved in a horrifying school bus crash when she was just 14 wants to find the hero policeman who pulled her from the wreckage.
Diane Leckie, now 53, has travelled all over the world since her teenage years in Milne's High School in Fochabers.
But she has never forgotten a trip to the theatre in Aberdeen in March 1979 which ended chaos  – and could have been much more serious for her but for the actions of a brave officer.
Conditions were treacherous that night in March 1979 when the the B9015 road between Rothes and Orton was covered in black ice.
Ms Leckie said: "My friends all got off in Fochabers so I moved and sat behind the others. On the road to Rothes the bus shot off the edge and landed on its roof.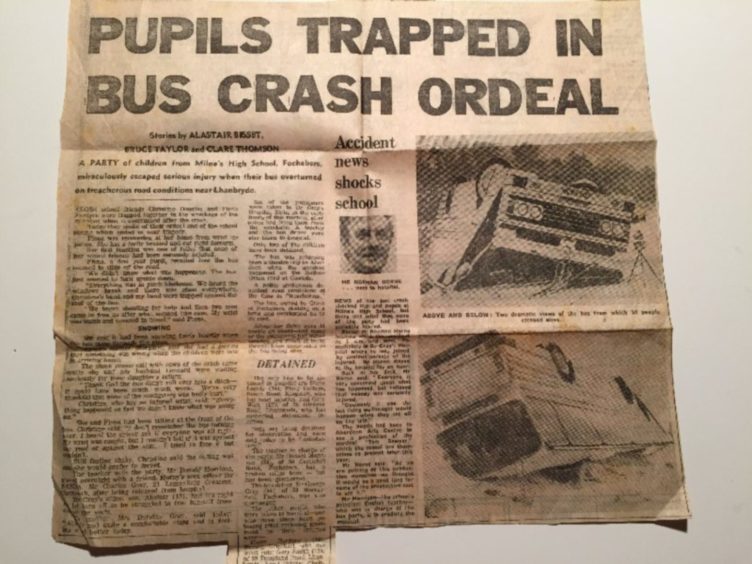 "It was on the brink of rolling down an embankment and landing in the garden of a lovely couple who came out and helped all who managed to get out and used their phone for calling parents. Due to the others being unaware of me sitting behind them, after all were helped out, it was thought all were accounted for."
A young Diane had expected to get off in her home village of Kingston at the mouth of the River Spey.
Thankfully no-one was killed, however she remembers that one boy lost his earlobe and the teacher, Donald Morrison, broke his collar bone.
She said: "There was a sudden movement of the bus flying around and all I remember before I was knocked unconscious was a lot of screaming.
"I remember briefly coming round and my cheek was lying against the snow, it was strangely soothing. I was trapped under this chair that had fallen and I was lying on my back with my legs in the air. Then I was unconscious again."
She was rescued by a young policeman who, despite being told all were out, decided to do one final, solo search. He found her and carried her out.
The children were taken to hospital in Elgin where Diane was treated for a head injury and kept in for observation.
She said: "The special memory for me is that the same policeman came to visit me and, due to it being around Easter time, he brought me a chocolate bunny. It has always been my wish to find out who he is and thank him for acting on his instinct and his kindness.
"He was lovely. He must be in his late sixties now. I have no clue what his name is.
"Things could have been much worse. It would mean so much to me to find him, thank him and find out what he remembers."
If you are the policeman or know who he is, please email pj.northnews@ajl.co.uk or call 01463 272241.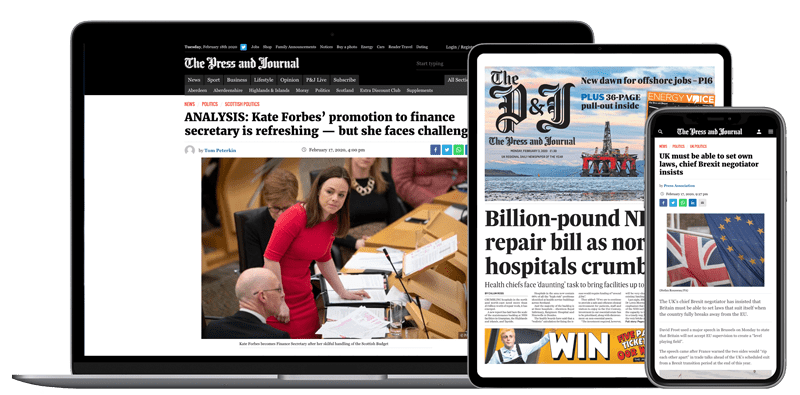 Help support quality local journalism … become a digital subscriber to The Press and Journal
For as little as £5.99 a month you can access all of our content, including Premium articles.
Subscribe