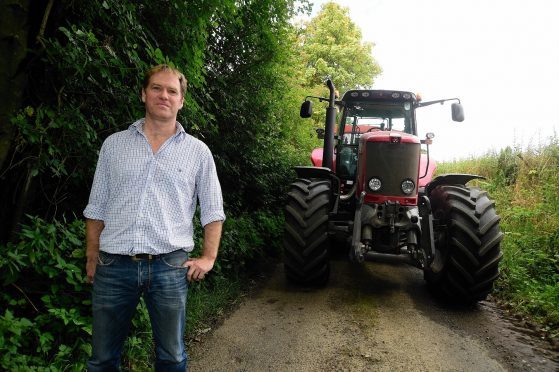 A north-east farmer has warned that a diversion, caused by a damaged bridge, could lead to a serious collision between motorists and farm vehicles.
William Lyness is one of a number of farmers currently collecting the harvest in the Fyvie area of Aberdeenshire.
The increased agricultural activity means the local roads are busy with tractors, trailers and combine harvesters.
Mr Lyness is concerned that unless Aberdeenshire Council takes action, there could be a grievous collision on the unclassified road, which is currently serving as a diversion following flood damage to the Tifty Bridge.
In July the Press and Journal revealed that the bridge – which crosses the Ythan on an unclassified road west of the A947 at Fyvie – cannot be repaired and will be closed indefinitely.
Mr Lyness said: "It's a problem we've all got out here because the farming community has this issue with the bridge.
"The problem we've got is the narrow road and the deluge of traffic on it. If we're going up there with grain trailers, there is going to be an accident.
"During the harvest we would usually operate a one way system, but with the bridge out, that's not possible.
"We've asked for a set of traffic lights. We would happily have lights and wait five or 10 minutes for them to change. Better that than someone lying in a hospital bed for three months."
But Mr Lyness said his plea to the council roads team had fallen on deaf years.
He added: "I'm just a farmer who wants to get on with my work. I told the planner: 'if you put traffic lights on there today, it would solve the problem immediately.'
"But we're harvesting today – we just don't have time for a meeting in two weeks."
Last night, Philip McKay, the local authority's roads chief, said he was sorry about the situation in the area.
He stated: "I would like to apologise to the local community for the challenges the closure of the Tifty Bridge has caused.
"The diversion that is in place has been devised to meet the policy and standards of Aberdeenshire Council and I urge all road users to drive to the conditions to ensure the safety of all vehicles on the road."