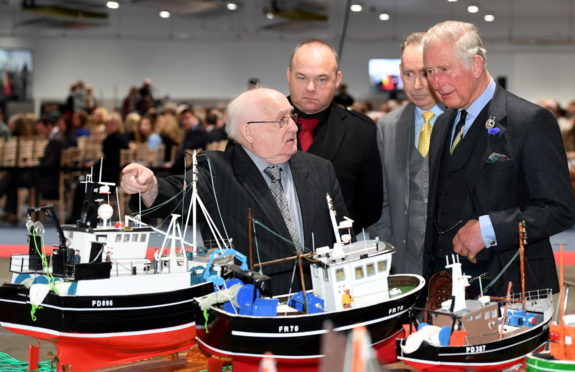 Tonnes upon tonnes of freshly landed herring, cod and haddock were swapped for silverware, champagne flutes and fine dining at the new Peterhead Fish Market this weekend as it was officially opened by the Duke of Rothesay.
The modern building, which opened for business in June, is a key part of the £51 million redevelopment of the historic fishing town's harbour by the Peterhead Port Authority, which also included the creation of a deeper basin and more than 2,500 feet of new quayside.
Prince Charles was welcomed to the expansive fish facility on Saturday morning by a pipe band and a group of sea cadets, before he toured the site and met with the community to find out how big a difference the improved market will make to their everyday lives.
One of the royal guest's first stops was a fish filleting room, where he spoke with 18-year-old Conrad Jack, of local company Jack Fish.
The fifth-generation fish-filleter demonstrated the tricks of his trade on a monkfish and told the prince he was proud to be working in the family business.
He said afterwards: "I was really nervous and I ended up dropping my knife halfway through but it was a really good experience to get an opportunity to speak to Prince Charles.
"Not a lot of people get the chance to speak to him in person.
"He was very interested in monkfish, if it was selling well and how much we take in. He was really keen to find out how long I've been in the industry – which is less than a year.
"There's not a lot of young people coming into the industry, so I think he was quite happy to see there's still some of us getting into it."
More than 500 guests from all across the north-east were invited to the market to celebrate its official opening, from prominent skippers to celebrated seafood chefs.
The brand new building is able to hold 10,000 boxes of fish at a time and boasts the latest in refrigeration technology which, when combined with better access for boats from the quayside and lorries from the shoreside, allows Peterhead-landed seafood to reach plates fresher than ever.
The Duke of Rothesay also took time out of his tour to chat to model boat crafter John Coull, who has been making replicas of Peterhead vessels for the past 20 years, ever since he severely injured his arm on a trawler and left his life at sea behind him.
Mr Coull, 67, said: "He is a brilliant man to talk to. He took hold of one of my boats and was asking all about them – how I make them and everything.
"My wife relaxes and watches the telly and I sit up in the loft making the boats. They take about two-to-three months each – and that's working for about two hours every night.
"It was really lovely of the prince to stop by and have a look. It made me very proud."
After a performance by the Peterhead Academy Orchestra, the prince took to the stage and unveiled a plaque to officially open the new market – though not before he was given a uniquely Peterhead gift of a big box of fish by 2018 Buchan Queen, Natasha Clueit.
His Royal Highness said: "I'm very glad to be able to join you this morning for the opening of this very important new fish market facility here in Peterhead.
"If I may, I would like to add my warmest congratulations to all those who played such an important part in building this new development and above all delivering it on time and on budget, and that I think is a great achievement.
"I know this new market, I'm sure, will make a huge difference not only to the local economy here in Peterhead, but also more widely in this part of Scotland.
"I do hope that all this investment and all this effort will bear fruit in the future, and not only that but through the particular attention to sustainable fishing and management, that there will be a long and successful future ahead."
Meeting the hard-working fishermen
Peterhead Port Authority chief executive Simon Brebner accompanied the royal guest on his tour, and introduced him to the hard-working fishermen who depend on the North Sea for their livelihoods.
Mr Brebner explained to Prince Charles how the £9million investment in the new market, and the £43million of work carried out at the harbour, will help to future-proof Peterhead's importance to the Scottish seafood industry.
But the proof was in the pudding, and the chief executive ensured that the Duke of Rothesay had plenty of opportunities to sample some freshly-landed food, such as Cullen skink, herring pate and smoked haddock.
Mr Brebner said: "It went fantastically, it was a wonderful celebration for the port, for the town, and its people – and to have Prince Charles officially open it, especially with his keen interest in sustainability, was more than we could have asked for.
"Fishing is a seriously sustainability-focused industry now, and we've just been given a double A rating from the British Retail Consortium, which means that the likes of Marks and Spencers and Tesco can come in, and they know their fish will have been landed and handled in a sustainable environment, which they are delighted with.
"And the best thing is all of this value is passed down through the entire supply and processing chain, everyone benefits – especially the consumer who is able to enjoy some of the best seafood in Europe."
He added: "This is a historic time for the port. The new fish market, quayside improvements, deepening of the harbour and widening and replacement of the Queenie Bridge represent a major investment by the board that will significantly improve operating conditions for users of the harbour, and create a legacy for the town as a whole."
John Campbell, the skipper of the Peterhead vessel Tranquillity, spoke to Prince Charles on the quayside alongside his wife Nicola.
The 30-year-old said he told the prince how the new harbour would make daily life easier for he and his crew, as well as more efficient, so fish can be filleted, sold and delivered from boat to plate faster than ever.
Mr Bruce said: "He was really nice and was chatting to us for a lot longer than I expected.
"He was asking lots of questions about the boat, the style of the boat, what we do, how we started out and how bad the weather had been and he was pretty interested in finding out how we tackled the Beast from the East and all the snow earlier on in the year.
"As a young child, my best memories were spent in the old market with my father, so it was a bit sad when the old market was demolished.
"Now, however, when you see our new and state-of-the-art market, it really is amazing.
"It's really great to be here and think, this could be where my children land fish in the future and for generations to come."