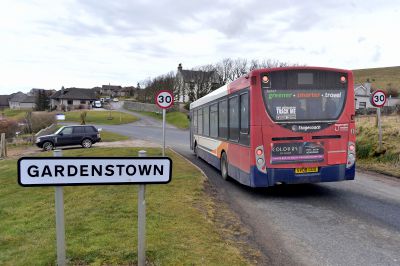 A campaign is gathering speed to save the only weekend bus service serving a north-east village following the launch of a petition.
The 273 Saturday service, which connects Gardenstown with Banff and Fraserburgh, will come to a halt from April 15.
It is one of the council-backed services around Aberdeenshire that will be withdrawn due to funding cuts.
The move would mean Gardenstown residents will be without any bus services between 6pm on a Friday until 8am on Monday.
Fears have been raised about the impact on elderly residents living in the coastal community who could be left isolated and unable to visit family and friends.
The petition, which has been posted online and can also be signed in shops around Gardenstown, urges  the council to reconsider its plans.
Andy Sturdy, secretary of the Gardenstown Village Action Committee, said it means the closest weekend bus picking up passengers in the area will be travelling eight miles away in Macduff.
He also raised concerns on the impact on visitors with the busy tourist season due to begin next month.
Mr Sturdy said: "The proposal is to cut the Saturday service which will mean that the community of 700 in the village plus those in the surrounding area will have no public service at all throughout the weekend.
"With this cut there will be no public transport linking Banff and Macduff to Fraserburgh on Saturday as there is no other service along the A98.
"We are a diverse community with a large proportion of elderly or mobility affected residents, and the population swells in the summer period through tourism. Visitors usually expect some sort of public transport.
"It therefore seems unreasonable to cut the bus service for the sake of saving what we are advised is £169 per week when Aberdeenshire Council is currently encouraging the use of public transport through their advertising."
Operator Stagecoach runs the 273 on behalf of the council and it is one of 29 services being either completely axed or replaced with a dial-a-bus option.
The local authority decided to reduce financial support for the bus services which provided least value for money.
Last night a council spokesman said they would listen to anyone with alternatives to axing the buses that serve Gardenstown at the weekend.
He said: "Should any community groups or individuals wish to directly support or provide the service then officers would be happy to discuss such proposals."