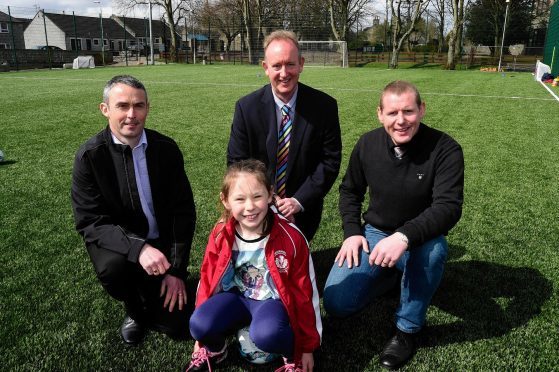 An £80,000 community sports facility has been opened to the public in a north-east village.
Amateur football club Mormond Thistle spearheaded the project to revamp disused tennis courts in Strichen.
And now, following a successful fundraising drive, the centre has been opened to the local community.
It includes a 3G all-weather pitch suitable for hockey, football, tennis, netball and basketball all year round.
An outbuilding to store goalposts, nets and other kit has been installed and the whole site is also free to use for the local primary for both curriculum sport activities.
Mormond Thistle, who play in the Scottish Welfare League, unveiled plans for the Mormond Community Hub in September when they dubbed the scheme a "very positive and exciting proposal".
Following Saturday's official ribbon cutting ceremony, club member Mike Coutts said: "It's the culmination of three years work from all involved.
"The idea began back in 2008 but it wasn't until 2013 that we got started with the organisation and fundraising to turn it into the all-weather surface.
"It's not named after the club, it's named after our landmark Mormond Hill. It encompasses the village and it's a huge benefit. The local school and playgroups will use it."
Mr Coutts added that the whole project was "built by the community, for the community".
"It will leave a lasting legacy."
The revamp of the courts near the Ritchie Hall follows a £240,000 refurbishment of the hall itself in 2014.
Last week the Strichen Gala community group bagged a £2,000 grant to upgrade the heating system at Ritchie Hall
The committee was handed the cash by supermarket giant Asda as part of the Scottish 5pm carrier bag levy giveaways.