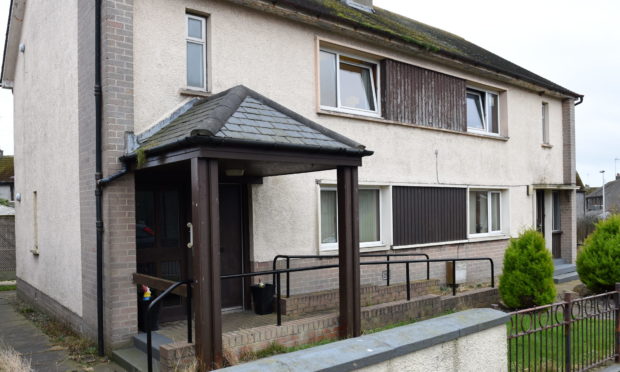 Inspectors have slammed the condition of a council-owned building in Peterhead used as a care home for adults with learning disabilities.
The Care Inspectorate carried out an unannounced inspection of the Duncan Crescent home in January and found windows that were not watertight, damp patches from previous leaks, uneven flooring and kitchen surfaces that "would not meet infection control standards".
The small two-storey care home has been run by Inspire (Partnership Through Life) Ltd since it opened in 2002, providing 24-hour support for four adults with learning disabilities.
The service received glowing praise for the quality of care offered, with its efforts to support residents' wellbeing and for how care is planned each ranked "Very Good".
But the building, which is owned by Aberdeenshire Council, only scraped an "adequate" rating – which means strengths only just outweighed weaknesses – thanks in large part to Inspire's creation of an excellent dining area that encourages socialisation and residents' own efforts to decorate their rooms to "reflect their personalities".
The report reads: "The general condition of the building was below the standard we would expect for a care home.
"Some windows were not watertight and there were damp patches on the ceiling from previous leaks.
"Flooring in the kitchen and at the exit to the rear of the building were uneven and presented as a trip hazard.
"Kitchen work surfaces were chipped in places and would not meet infection control standards and while the premises were clean, there was general clutter throughout the house."
Head of property for Aberdeenshire Council, Allan Whyte, confirmed the local authority is continuing to "invest in the maintenance and upkeep of all our properties".
But he added: "Unfortunately we have a number of older properties and we are actively looking, with our Inspire partners, at what we do with the Duncan Crescent property in the future."
Over the last four years, inspections have been highlighting problems with the condition of the council-owned property.
Requirements to improve have been made on several occasions but consistently been described as "unmet".
George McCulloch, Inspire's director of operations, said: "Providing the highest standard of care to the people we support is our absolute priority, and it is heartening therefore to see the excellent work done by the team at Duncan Crescent recognised with the second highest grade available for both the care and support, and supporting people's wellbeing categories.
"We would acknowledge that there are ongoing issues with the building and environment at Duncan Crescent and continue to work closely with our landlord, Aberdeenshire Council, to address these issues and find a long-term solution."