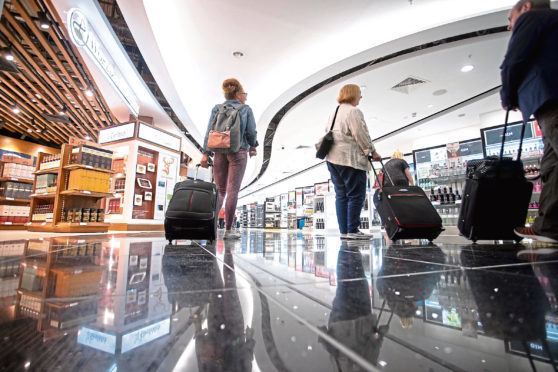 Peers have raised concerns the UK Government has advised airlines to put disclaimers on tickets dated after Brexit Day to protect against compensation claims.
Liberal Democrat Baroness Doocey put the suggestion to ministers in the House of Lords yesterday.
But Tory Lord Bates, responding for the government, insisted he had received no evidence of such a proposal.
He also came under pressure from former Gordon MP Lord Bruce of Bennachie, who highlighted warnings from airlines and ports of "disruption, delays, cancellations and gridlock" that could cause "uncertainty over health and travel cover".
Baroness Doocey said: "Can the minister confirm that guidance has been given to airlines to protect themselves from compensation claims by putting a disclaimer on all airline tickets dated after 29 March next year?"
Lord Bates, who is minister of state for international development, replied: "I have received no evidence that that has been proposed, and it is something that the regulators would look at seriously if that were the case.
"We have been quite clear that we want those important travel agreements to continue.
"UK nationals make 50 million non-business journeys to the EU each year, and they spend about £24billion. It is very important for the EU that that continues to work post Brexit."
In March, Ryanair raised the possibility of selling tickets with Brexit caveats amid increasing fears of a no-deal outcome.
And last night a spokesman told the Press and Journal the company's summer 2019 schedule was "subject to the regulatory environment allowing these flights to take place".
A technical notice on the UK Department for Transport's website, explains that in the event of no-deal, UK and EU licensed airlines would lose the automatic right to operate air services between the UK and the EU without seeking advance permission.
It adds: "This would mean that airlines operating between the UK and the EU would need to seek individual permissions to operate."
Former Liberal Democrat deputy leader Lord Bruce warned disruption could lead to people finding themselves in the EU without compensation for delays or cancellations or without health cover, the latter being "especially serious for vulnerable patients".
He asked: "Can the minister guarantee that the European Health Insurance Card, of which 27 million are in circulation in the UK, driving licences and car insurance will continue to be fully valid after 29 March?"
Lord Bates said the government wanted UK and EU nationals to continue to be able to use the EHIC card to receive healthcare, although advised travellers to take out insurance as well.
He added: "We have also stated that we want to continue to have the same access for air flights and that we will grant permission for European airlines to travel to us.
"We now look forward to our European friends doing likewise."