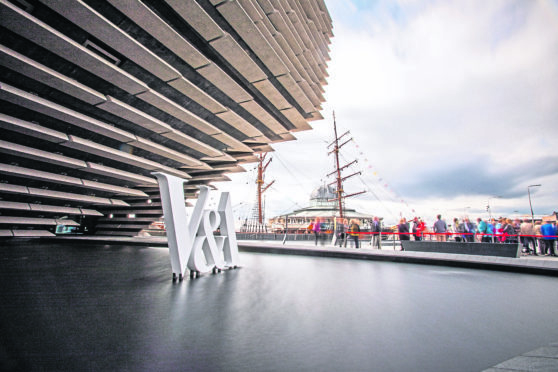 The roof of the V&A Dundee contains combustible building materials that has been linked to spread of the Glasgow School of Art fires and Grenfell Tower's windows.
Scotland's flagship museum last night said it is "fully compliant with all existing building standards."
Safety experts, firefighters and campaigners have however all warned against the use of combustible polyisocyanurate, or "PIR", materials on public buildings.
The V&A, which opened last month, is fitted with two different types of the roofing product, both manufactured by Kingspan.
In a submission to the Scottish Parliament's Local Government Committee investigation into fire safety, the Fire Brigades Union questioned the use of PIR in Scotland, adding the material has "unusual burning characteristics".
It said: "The demands for better and better thermal insulation of buildings is driving innovation in the construction industry, but unfortunately, most of the best insulation materials are also easily ignited and very combustible but there is not the resource any more to study the risk."
PIR is up to 50% cheaper than non-combustible products stone wool or glass wool, which are made from recycled glass and strands of rock.
It also gives off toxic gases, including hydrogen cyanide and carbon monoxide, when ignited.
The material is rigid plastic foam between two sheets of aluminium foil. The foil helps reduce the insulation's exposure to fire and provides thermal benefits.
It has been reported that PIR was used on the Glasgow School of Art. Firefighters are investigating whether it aided the spread of the June 16 blaze.
The material meets building regulations standards but both types used on the V&A are categorised as Euroclass E for fire safety, the second lowest rating possible.
In its Scottish Government commissioned report, the Review Panel on Building Standards (Fire Safety) in Scotland recommended external walls of all "entertainment and assembly buildings" are fitted with material that meets at least a Euroclass A2 rating.
That is four notches above the V&A roof insulation's rating, although the document does not make any specific recommendations about roof spaces.
Industry sources said the biggest potential for any fire starting on a roof would be when remedial works take place. One source said: "Why would you consider putting non-combustible facades on and not carry on to the roof?"
The V&A said no welding will take place on its roof.
Class E is the same rating as the window insulation in Grenfell Tower. In evidence to the Grenfell inquiry experts said such insulation could have contributed to the fire spreading.
Charlie Sadler, a fire safety expert and a core member of the Grenfell fire forum, said no combustible material should be used on any building that is three storeys or higher.
Ms Sadler, who has more than 26 years' experience working in structural fire protection, said: "PIR will get round tests by putting foil round it.
"It's like if you put a naked flame to your turkey at Christmas it will burn to a crisp but if you put foil round it, it will cook nicely.
"The problem is when the foil goes it will ignite very easily and won't stop.
"What happens if you have a fire on the top storey of a building? The first place it will go is the roof. The roof will bubble and boil and will go on fire if it's combustible materials and will spread to another part of the building."
She added: "To make it as thermally efficient as possible, it [PIR] is the better, easier, and cheaper route."
Joe Delaney, of the Grenfell Action Group, said: "This stuff shouldn't be used on any building, regardless of what the building may be.
"I don't care if it's a museum or a school, or a hospital, or a home.
"It's not worth the chance, even if there is a one in a million chance that this could happen, that is still too much."
A V&A Dundee spokesperson said: "The design and construction of V&A Dundee is fully compliant with all existing building standards and those being considered for the future.
"The guidelines referred to by The Courier relate to walls of high rise buildings and residential properties, and it is entirely incorrect to equate these to roofing.
"There are fundamentally different considerations for the use of materials in roofs, particularly as all wall insulation in V&A Dundee is non-combustible and there are no cavity routes for fire to spread to the roof. There will also be no welding on the roof of V&A Dundee, as nothing on the roof requires welding, removing that fire risk.
"The museum's design and construction have been subject to a rigorous fire engineering strategy, assessed independently by peers, building standards and the Scottish Fire and Rescue Service. This includes a marshalled evacuation procedure.
"The building is fully monitored by a fire detection system within the museum, which also immediately contacts the fire service in case of any incident. Fire safety risk assessments are also conducted annually by an independent assessor."