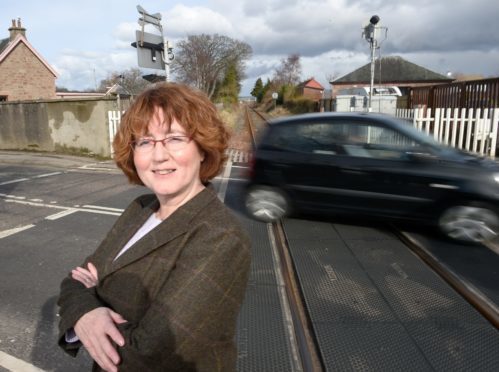 Network Rail has unveiled plans to upgrade two level crossings in a busy Ross-shire town which have been subject to "regular trespass incidents" and "close calls."
Full barrier systems will be installed this summer at Dingwall's middle and No. 1 crossings along with "object detection systems" which laser scan the crossing before trains can safely pass.
The middle crossing, where the railway crosses the A862 Newton Road, is currently protected by a half barrier system and No. 1, on Craig Road, is an open crossing with no barriers.
A spokesman for the national rail operator said both crossings have been "subject to regular trespass incidents and close calls." He stressed that the risk for motorists and pedestrians has increased at Dingwall's level crossings in recent years due to growth in the town and more traffic, especially with the presence of a Tesco store.
Dingwall and Seaforth councillor Margaret Paterson said she was "delighted" with yesterday's announcement, adding: "Safety is paramount and I have been fighting for well over 20 years to make these crossings safer. I think it should have happened sooner because there have been quite a number of incidents. I have received e-mails and letters about the lights not working.
"I know people who were frightened to drive over the crossings, or crept over because sometimes when the sun is low in the sky you cannot see the lights."
Network Rail has warned motorists that the installation and testing of the new equipment will require two-week road closures at each of the crossings.
Dingwall middle crossing is set to close from Sunday, July 15, to Sunday, July 29, while Dingwall No. 1 will close for two weeks during August, with dates to be confirmed. The closures will not overlap.
The announcement comes just days after Network Rail submitted a scoping application to build a replacement bridge by the end of 2020 at Delny level crossing near Invergordon, where two teenagers were killed in a crash in 2007.
Alan Thain and Paul Oliver, both 17, were killed there when a car in which they were passengers was driven into the Inverness to Wick train. A half barrier system was installed at Delny in September following a review of all open level crossings in 2011.
In 2009, Angus MacKay and his wife Margaret, both 81, and Mr MacKay's brother Donnie, 66, from Latheron, were also killed when their car was struck by a train at a crossing in Halkirk.
David Dickson, infrastructure director for Network Rail Scotland, said: "These level crossing upgrades represent a significant improvement for rail and road safety and we hope that the community will support our efforts to instal these upgrades this summer." Local ward councillor Angela MacLean said: "I think it will be a vast improvement having the barriers and it will stop people trying to skip through. The object detection system is added security which is welcome, especially when the (middle) crossing is so close to the school."
John Leitch, chairman of the Craig Road Residents' Group, said yesterday he was "annoyed" that it was the first he had heard about the plans, and fears more traffic will back up to the junction of Newton Road with the new barriers in place.
The national rail operator will be hosting a community drop-in event at Dingwall Community Centre on Thursday, April 19, from 3.30pm to 8pm. Local residents will be able to speak to the project team at this event.
Comment, Page 27