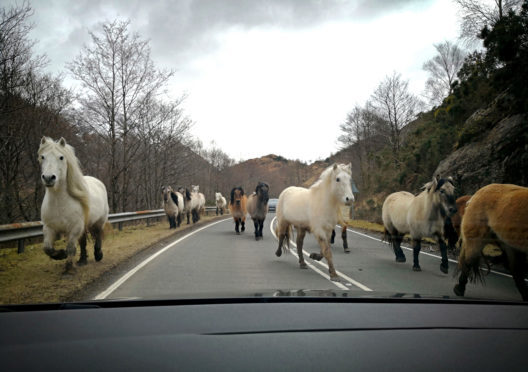 This amazing picture show the moment a field full of Highland ponies surprised passengers on a busy road as they ran alongside traffic.
Suzie Moffat caught the dreamlike moment on Saturday afternoon while driving on the road between Kyle of Lochalsh and Dundreggan.
The 32-year-old, who works for a homeless charity in Ayr, was travelling with partner Gordon Mcilloney, 33, and their two dogs when they saw the horses running towards their car.
The couple were driving along the scenic route returning from a holiday in Skye.
Suzie said: "We were driving along and paying attention to the road as there were lots of signposts warning about goats, which we saw a few of.
"Then we saw horses coming towards us, slowly at first then they started cantering past our car.
"Other cars behind and in front of us had stopped too.
"It was an amazing experience and the only time I'll ever get to see something like that."
Suzie said there appeared to be a car guiding the horses along the road trying to move them to a field.
She added: "My partner and I were amazed. Our dogs didn't seem to be bothered by them though."
The 26 horses belong to Glenshiel Highland Ponies and Trekking Centre who were moving the animals to their stable.
Eilidh Gribben, 21, trekking leader and stable manager, at the centre said: "They are our Highland Ponies and they were all bred here by us on the Glenshiel Estate in Shiel bridge.
"The horses were being moved up the road as their winter fields are further down the glen and it's the only way to get them all back up to the stables in Shiel Bridge.
"There are 26 horses in total, some of them too old to work and some too young or just being brought on to work.
"Their ages range from five to 25.
"They were originally bred for carrying stags off the hill during the deer stalking season so they are incredibly strong and hardy for going up and down the hills.
"Two of our ponies have been used for deer stalking but now we use them to offer Pony Trekking up the glen and along the beach of Loch Duich to give a great way to see the beautiful landscape.
"During winter they are left to their own devices as they are built for cold climates so don't need much care. We usually move them two or three times a year."